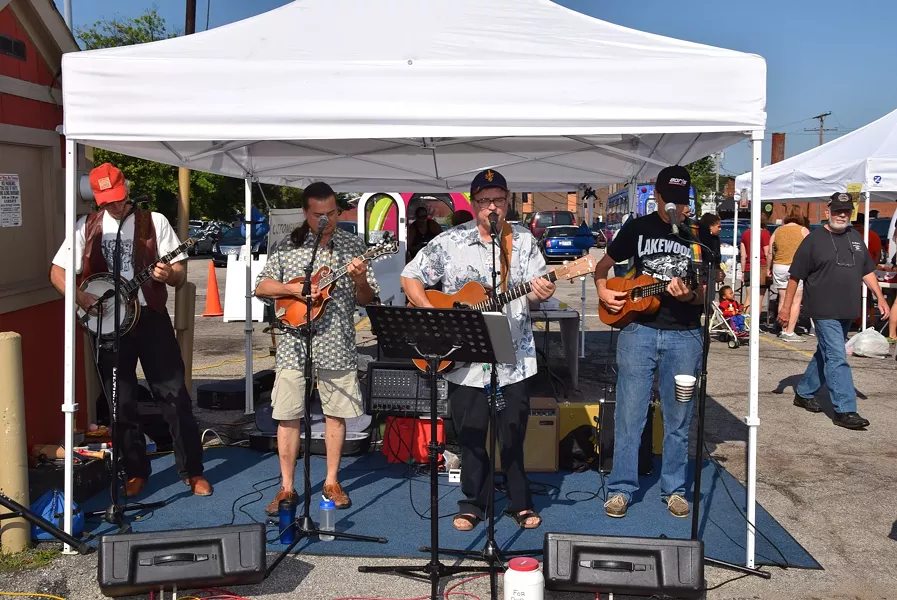 Since its inception ten years ago,
the Kamm's Corners Farmers Market
has sought to offer more than just local fruits and veggies. Each market also features a musical performance.
Organizer Steve Lorenz says he thinks "music keeps it as a lively place" and likens the market, which takes place on Sundays from 10 a.m. to 1 p.m. at West 168th St. and Lorain Ave., to "the town square for Sundays in West Park."
The first market of the summer takes place on Sunday, June 12.
"We've always said we had three legs to our stool for the market," says Lorenz one afternoon over beers at a Westpark bar with fellow farmers market organizer Joe Outlaw. "One is fresh vegetables, and the second is some kind of healthy living feature. The third is music and for the whole ten years we've had a robust lineup of music, which morphed into some funding from Cuyahoga Arts and Culture to help support it. Most of the music is paid for by a grant from Cuyahoga Arts and Culture."
A core group of six volunteers have been there since the beginning helping Lorenz book the bands. And he takes suggestions from market visitors too. Lorenz describes the booking process as "a collaboration."
"We get a tremendous amount of phone calls from people trying to book themselves," says Outlaw, a guitarist since his teens. "I know a lot of local musicians and try to cherry pick A-list Cleveland musicians that fit the market. It's a little limited because you can't have a full drum set. The most you can have is a high hat and maybe a snare."
This year's
lineup
represents a great cross-section of local acts, including acoustic guitar master Jim Volk (June 12), the bluegrass band Brand New Hat (July 10) and singer-songwriter Roger Hoover (July 24).
"It's really diversified and it's gotten more so," says Lorenz when asked about the lineup. "We wouldn't have done blues in the early years, but we're doing blues this year. We have bluegrass, and we got into jazz a couple of years ago with [local singer] Laura Varcho."
Blues guitarist Dave Thomas, a national act who's playing this year's Chicago Blues Festival, plays the market on June 19. Outlaw says he came across the guitarist, a self-taught left-handed guitarist who plays a right-handed strung guitar, about ten years ago when he flew into town to perform with local bluesman Wallace Coleman.
"[Thomas] promotes a number of festivals in the UK," says Outlaw. "He invited Wallace to play and Wallace then invited him to come to Cleveland. He likes Cleveland and thinks of it as his second city. He's played at Brothers Lounge and Happy Dog and the Music Box."
In 2011, market organizers issued
Music of Market
, a CD featuring many of the local artists who have performed at the market. They've even followed it up with a second CD.
You can see videos of past farmers market performances
here
.