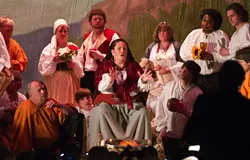 Critical masses of violists and trombonists hit Northeast Ohio this week, followed closely by chamber musicians assembling for the fifth edition of Franklin and Diana Cohen's ChamberFest Cleveland — more about that next week!
The American Viola Society
pitches its tents in Oberlin this week, with four evening concerts scheduled from Wednesday, June 8 through Saturday, June 11 in Warner Concert Hall at the Oberlin Conservatory. The performance on Thursday the 9th at 7:30 p.m. will celebrate retiring Cleveland Orchestra Principal Robert Vernon. The final concert, on Saturday at 7:30 p.m., will be a viola blowout, including the world premiere of Kenji Bunch's Rise (And Shine), a commissioned piece for viola ensemble.
Check out our concert listings for program details.
(Tickets are $20 general and $10 for students and seniors at the door.)
Opera Circle Cleveland
makes its annual, one-night-only visit to the Ohio Theatre in PlayHouse Square for Giuseppe Verdi's hit opera Il trovatore (The Troubadour) on Saturday, June 11 at 7:30 p.m. The piece is full of such hummable tunes that the first-night audience in Rome in January of 1853 demanded that the end of the third act and the whole of the fourth be repeated — something you'd never see happening these days. Tickets are available from the
PlayHouse Square box office.
Cleveland Orchestra assistant principal trombone Shachar Israel opens his
Cleveland Trombone Seminar
with a solo recital on Saturday, June 12 at 2 p.m. in Drinko Hall at Cleveland State University. A parade of recitals by important trombonists follows, with Nitzan Haroz on Monday, June 13 at 6 p.m., and Mark Lusk on Wednesday, June 15 at 6 p.m. (More to come, including the final participants' recital, in next week's picks.) Tickets are $15 at the door.
Bop Stop Premiere
— Christopher Auerbach-Brown's The Slow Waltzes will be played for the first time by pianist Brianna Matzke on Sunday, June 12 at 7 p.m. at the Bop Stop. "Paradoxes are the soul of this 45-minute work for solo piano — dancing in ultra-slow motion, the eye of a storm, a beautiful struggle." Admission is $10 at the door, food and drinks for sale.
ChamberFest Cleveland
opens its season with a young artist recital by cellist Oliver Herbert and violinist Alexi Kenney on Wednesday, June 15 at noon in the Smith Studio at IdeaStream in Playhouse Square. They'll play Zoltán Kodály's Duo, Op. 7 and Arthur Honegger's Sonatina in the only free concert on this year's roster (we'll start talking about the rest of the performances — well worth the admission prices — next week).
For details of these and many other events, visit the
ClevelandClassical.com Concert Listings page.