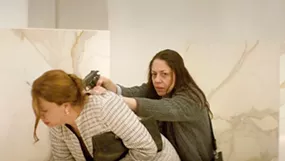 Jan Rulay in A Monster with a Thousand Heads
When her husband collapses out of the blue, Sonia Bonet (Jan Rulay) painfully learns that her husband's cancer has progressed to the terminal stage in
A Monster With a Thousand Heads,
opening Friday at the Capitol Theatre as part of its new Capitol Selects series.
Enraged that her insurance company won't approve the care her husband needs to survive, Sonia spends the next 75 minutes hunting down every person responsible for rejecting the care her husband needs.
While the film paints an all-too-real picture of the battle families plagued with cancer face, the film ultimately suffers from a few fundamental flaws.
Firstly, the entire premise of the film is that Sonia is fighting the system for her
husband
. However, while Sonia goes through unimaginable lengths to fight for him, we only see them interact for 20 seconds at the beginning of the film. That lack of crucial context makes sympathizing with Sonia's actions all the more difficult.
Additionally, the film constantly oscillates between complete absurdity and haunting realism. What makes this film absurd is Sonia: Her husband is dying, yet she is dragging her son around Mexico with a gun, chasing down people responsible for rejecting her husband's health insurance. This just doesn't seem like something that would ever happen. On the other hand, this is precisely what makes the film hauntingly realistic. Death makes people completely irrational; the fact that her husband is dying somewhat justifies Sonia's delusionally psychotic behavior.
Despite this potential justification, though, Sonia's actions are so extreme and unpredictably violent that you can't help hating her —
And this is the film's saving grace.
Because we hate Sonia so much, there must be something great about
A Monster with a Thousand Heads
. If this tedious, slightly ridiculous film with unremarkable acting was able to spark so much hatred for Sonia within me, then something was done right.
Perhaps it was the unremarkable acting that made it so remarkable. Most of the time it was like watching real life unfold before your eyes. It didn't feel like a movie — there were no dramatic and climactic moments, there was no music, no noticeable special effects. It was just a camera following around a woman madly in love with her dying husband. It was a trainwreck unfolding before your eyes. Every time Sonia lifted her gun, you rolled your eyes and knew what was coming. You wanted her to stop, but you knew deep down that she wouldn't.
That knowledge, combined with seamless film editing and voice overs of the future courtroom trial in which Sonia would find herself, made the film much more interesting to watch.