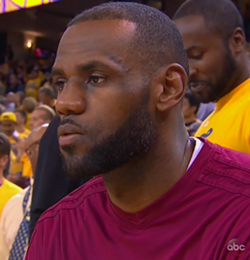 Coronations are never easy. But after last year's NBA Championship, a 73-win season and more preening than you'd see in the typical episode for
My Super Sweet 16
, many analysts and Warrior-acolytes (when not one in the same) perceived the NBA Finals as an afterthought.
The Warriors near-miss against the Oklahoma City Thunder didn't check Golden State's pride, but amplified it to Stay-Puft Marshmallow-man size. They've already played their "Finals" in the Thunder, we heard, as though meeting the Eastern Conference Champ was the Pro Bowl, a regrettable but unavoidable formality. After the two games in Golden State, the thought of the series even going five games seemed implausible to them.
Indeed, ESPN analyst/Chief Warrior cuddler Amin "Hate Hard" Elhassan (
who obviously in adopting such a moniker and accompanying dismissive manner has the thick skin to take kidding
) had been planning the festivities for months. This was bigger than streamers and confetti. He imagined the stateliest pleasure dome since Samuel Coleridge, designed with the innate flair and intellectual rigor of Erlich Bachman.
However, the day before Monday's coronation things went awry. First the animatronic Draymond Green in the Hall of Starters ran amuck, sprinting about the park booting blue and gold planters like Phil Dawson.
The planters were situated along the edges of the Narcissus, aka the long, Greatest Team, Like, Ever Reflection Pool. After Green kicks sent them rocketing skyward, several planters came crashing through the frescoed ceiling of the Church of Hoops taking out Jerry West's finger reaching out to touch the rock in Stephen Curry's grip.
Another planter took out a retaining wall holding back a sea of the Bay's undesirables. Suddenly winos, bums and former Raiders players began pouring into Luke Walton's Dionysian Going Away Bash.
Women wearing only
gladiators
, clams and pasties ran down West Coast Way away from the party at the Pleasure Pit where Napa wines flitted between specially outfitted tables like dancing waters. Only now the winos where knocking each other over to catch the wine in their mouths, while bums frolicked in the nearby Warriors fountain of youth, quickly turning the water brackish. The ex-Raiders quickly got about committing felonies.
Next Elhassan received a text from his assistant. It turned out the plumber they hired for the Golden Showers Celebration Kiosk was born in Northeast Ohio. The Kiosk featured a replica of the Golden State locker, which patrons passed through while being sprayed with champagne-scented water by cavorting animatronic Warriors players. Only this plumber had intentionally crossed the water and sewage lines.
Amin wanted to scream, but then he felt the earth shake. He lived in California where such things are inconveniences, not signs of a higher power's displeasure. So when the first shock came, he ignored it (See, Game 3), and when the second shock hit, he involuntarily fell to his knees.
Looking up he watched the 50-foot high Splash Brothers waterslides began to quiver and shake above him. The dot-com company that commissioned the slides didn't rate them for seismic disturbances on the level of the Cavaliers beating the Warriors in Oracle Arena by 15. Indeed, nobody in the Bay could have imagined such a thing.
Even Elhassan, a former engineer (and not the kind that goes "toot-toot") hadn't considered the possibility. Moments like these, he thought, made him regret taking that extra class in self-regard rather than prayer. Whether he accepted it or not, it was becoming – so improbably, he thought – his last chance at salvation, provided, of course, that higher power is sympathetic to smug complacence.
Hells Yeah

LeBron James extended his streak of playoff series with a road win to an NBA Record 26 straight by reminding the Golden State Warriors that talk is cheap and maybe they should kill their foe before they start burying it. James scored 41, grabbed 16 boards, had 7 assists, 3 blocks and 3 steals against just two turnovers.
The day before Klay Thompson mocked James for his thin skin at allegedly being called "a bitch" by Draymond Green. "I guess his feelings just got hurt. I mean, we've all been called plenty of bad words on the basketball court before. Some guys just react to it differently." Marreese Speights tweeted a baby bottle. Even Mrs. Stephen Curry threw her two cents in on Twitter.
Not like such things matter, at least, according to James.
"I really don't think that even matters. You guys make me laugh. I swear you guys do," said James after the game. "My only motivation is how can I be there for my teammates and my coaching staff. That's it. I mean, at the end of the day, nothing else matters.
But that doesn't mean he wasn't pumped. The LeBron James that came out was –
much as we predicted in our out-of-the-blue column yesterday afternoon
anticipating the win – stern, stoic and all-about-business. Sometimes we forget how emotional James is, but it's when he channels rather than rides that emotion that he's at his most dangerous. Last night James emotion was dense and hot as neutron star, but like the onetime supernovas, it was barely detectable from a distance.
The Real Star Was Kyrie

Indeed James showed tremendous deference to 24-year old Kyrie Irving who supernova's all over Stephen Curry's face, for 41 points last night on 17-24 shooting. Suddenly it was the back-to-back MVP whose defense was under the microscope.
Gotta hand it to ESPN resident Real-Plus-Minus evangelist for picking the absolutely perfect day to run the Kyrie-hater article,
Is Kyrie Irving wrecking the Cavaliers title chances?
The timing on that is just
too fah-bulous
.
Also gotta hand it to the ESPN tribe of Warrior stooges who, even given a chance to hedge with Draymond Green suspended, couldn't quite picture the Warriors losing,
all four predicting a clinching victory
as surely as Dewey beat Truman.
We presume the fact that they weren't much more in this game during the second half than Toronto was Game 6, has to add insult to injury, if these guys even have that level of self-awareness. Oh yeah, and for
Bradford Doolittle, ESPN's token Cavaliers believer
: Stay strong!
Englemann isn't necessarily wrong about Irving's Game 4 defensive lapses, but rather seems to be suffering like his peers from a plague of different self-congratulatory biases including but not limited to: Bandwagon Effect, Confirmation Bias, Focusing Effect, Mere Exposure Effect, Obsequiousness Bias, Fundamental Attribution Error, Status Quo Bias and we're guessing about now, Post-Purchase Rationalization.
Stephen Curry's newest shoes for Under Armour look great on Shuffleboard Deck.
Irving can be challenged defensively and can sometimes distribute the ball less than ideally, but he's a not incapable defender and most importantly a stone dead scorer. This is frequently neglected in Irving's media case while Currys' lame d is overlooked. Well, now the ugly shoe is on the other foot.
A reporter mentioned to Richard Jefferson how some people – among them Englemann – were keeping track of how many times Kyrie Irving brought the ball up and didn't pass it. (Somewhat legitimate and somewhat not.)
"If they never played basketball, then I have no desire to really talk to them. MJ shot what he shot, 'Bron, Kobe, Steph, Klay. These are guys – that's what they do, they score," said Jefferson.
"That's who [Irving] is for us," he continues. "He's a scorer. 'Bron is more of a playmaker and runs the team, almost from the point guard position. We got Delly and we got guys around that just try to play together and make plays. Steph is probably never going to lead the league in assists, but boy that boy can put points up; same with Klay. So don't judge guys on what they do; judge them on whether or not they win games."
Scorer, Not Point Guard, LeBron Fills in the Rest
This goes back to (briefly we promise) the issue of using analytics to judge between basketball teams and not simply players on the same team (adding variables that they can never effectively control for). For the Cavaliers, as RJ says, Irving is the primary weapon of attack.
He doesn't need much of a screen necessarily, as he'll beat both his and the screener's man, frequently snaking the roller. Watch Matthew Dellavedova to see how the pick-and-roll is traditionally run, where the point guard sort of dallies long enough for the roll guy to beat the indecisive defender.
Now watch Kyrie just attack them both, or "snake the roll man" by attacking the roll man's defender and his own man, while the roller trailed him. Irving beats two men regularly with a skill and ice-water diffidence that's inspiring like a diamond thief.
The key for Irving is to attack quickly so the defense doesn't have an opportunity to key in on him and orient the help defenders in his direction. Irving's aggression springs James, allowing him to a break from forcing the action.
He can be the second banana where he can be even more effective. Last night there seemed more situations where James didn't initiate the offense but received the ball out of cuts and moving toward the basket off-the-ball. Here Love finds James after Irving screened for him, freeing James for a backcut on the defensively woeful Curry.
"When a guy has it going like Kyrie had it going, I'm able to find cracks and move without the ball and get it with the live dribble and things of that nature. And all of our teammates do a great job of keeping the space, keeping it available for me to cut through the lane and things of that nature," said James. "Just try to be an outlet when Kyrie doesn't feel like he has a great look and just try to put pressure on their defense."
Love's Labours Lost?
Though Kevin Love didn't do a lot on the stat sheet, he did a number of little things that aren't as likely to show up, like this nice screen on Iguodala that gave James an opening for a lay in.
Love had some pretty ugly issues rebounding, playing 33 minutes and getting just three boards. We suspect he might still be feeling the aftereffects of the concussion (just because they passed the NBA's concussion protocol doesn't mean they're completely well) but it is hard to watch him get pwned on the boards like this.
A moment later after a bucket, Love came to LeBron looking for a high five and got rejected like Urkel stepping to Beyonce. The ever diplomatic King saw this as a moment to get Love's attention... and how. Love looks like James told him there was no Santa Claus and the Tooth Fairy was sleeping with his high school math teacher.
LBJ's a stern taskmaster, but it's a ring we're talking about and removal of the curse. Half-measures won't do. (Kevin will have to overcome his disappointment.
Creating Space
What Kyrie said after the game was interesting in citing the gameplan, spacing and weakside action as keys to his outstanding performance.
"Our spacing was pretty good tonight in terms of where guys were positioning and our weakside action, which I've been talking about almost this whole series waiting for it to happen, and it happened," Irving said. "Guys were in the spots, and it opened and allowed myself and LeBron to see a lot of driving lanes. But also, if we saw guys coming over to help, we were ready to spread out to our teammates."
Kyrie also noted the rest Lue got them, giving lie to his defense of their playing time during Game 4. But give Lue credit, like any smart person, he didn't make the same mistake twice.
"I think as well it is the way we spaced out our lineups and when guys were coming in, relieving us and giving us a few minutes here and there, it gave us an incredible amount of energy that we needed to sustain the high level that we were playing at," Irving said.
While we noted a lot more off the ball activity – especially J.R. Smith who attacked close outs rather than pass, and Richard Jefferson, who remains the team's most savvy off-ball player outside LeBron – and a slackening in the reliance on James and Irving (26 of 37 second half shots as opposed to Game 4's 33 of 38).
We have a theory. By and large, Lue wants James and Irving to attack the Warriors, based on their scheme. When the Warriors are switching everything (essentially when Bogut, Speights or Ezeli aren't on the floor) they are essentially saying, 'We aren't going to give you any open perimeter shots or openings off screens; we'd rather let you beat us one-on-one."
They're good enough to make that strategy stick; so Lue says, "Fine, I'll beat you with my two best players guarded by whatever random Warrior ends up on them" (though obviously the Cavs had some thoughts/intentions on this as well).
If the play goes too far into selfishness and the off-ball-movement stops, then the defense will be able to focus just on the ballhandler, and pay scant attention to their player, but if the guy they're essentially guarding is cutting and screening, it divides the defender's attention. The Cavaliers need a little divided defense attention making essential off-ball-movement and going quickly – not giving the D time to draw a bead on the ballhandler.
"Golden State is one of the best teams out there – they'll eliminate the trigger and force you to be static," says James Jones, explaining that Golden State will take away the read-react offense, and force individual actions. "We did a better job of moving and in transition [to counter that]. We got movement, guys were catching and attacking. J.R. was attacking. Shump was cutting and got hit for a dunk. Kyrie was triggering on the baseline swinging the ball. We feel a lot better about our team when our support guys are in there."
Last night they got enough from the Cavs role players to keep the Warriors honest. Tristan made half his free throws in a stretch of the third where Steve Kerr tried the Hack-A-Tristan, which ended on a possession where he made both free throws. The gambit failed to cut into the Cavs lead as a result.
Jefferson added 8 points and three steals to go with three turnovers. Shumpert played his best game of the playoffs scoring twice, blocking two shots (including a Curry 3 in the fourth quarter) and getting a steal. J.R. Smith had ten points as well and a steal. The Warrior bench barely outscored the Cavs 15-12, even with Andrew Bogut going down with an injury in the third quarter and playing just under eight minutes.
The Game
As we expected the Warriors came out with great passion and intensity to make up for Draymond Green's absence. (Forbidden from entering Oracle Arena, he watched the game from the clubhouse of the Oakland A's, playing at the same time next door, to be on hand for any potential celebrations. Cue "Sad Trombone.")
It was scary at times in the first as the Warriors enjoyed early 6-points leads at 9-3, 17-11, 19-13 and 22-16. A pair of threes by LeBron and J.R. knotted it at 22 with four minutes remaining in the first. It stayed back-and-forth through the rest of the first half.
While LeBron James put up the biggest first half scoring total of his playoff career (25), Klay Thompson did him one better with 26 including 6-8 from three. Add in 3-6 from distance for Curry, and you have a substantial portion of the Warriors 11-21 form 3 in the first half.
Meanwhile the Cavs calmed down after an 8 turnover first quarter, and shot very well (54%) while holding the Warriors to 47%.
In the second half, the Cavs put the screws to Golden State. After being tied at 61, Cleveland outscored them 51-36, as the Warriors flubbed fastbreaks (1-9) and wound up taking too many threes completely ineffectually while their overall shooting also
fell off a cliff much like Homer Simpson
(3-21 second half, 14%, overall, 12-45 27%).
Harrison Barnes fell back to earth (1-9) quicker than David Bowie, Shaun Livingston turned back into pumpkin (1-4) in extended second half minutes, and the Splash Brothers returned to earth (7-21, 2-11 from 3) proving that as good as a team can look when they're making them, they look just as bad when they can't.
Golden State shot 36% for the game made 17 turnovers to the Cavs 16 and lost 28-9 on fastbreak points. That's the peril of Golden State's sometimes indifferent ballhandling and shot selection.
"The first quarter they came out aggressive and they hit shots. We allowed them to get where they wanted to and we gave them clean looks. We can't give those guys clean looks," said Jones. "In the second quarter we still had some mistakes, but later on in the third and fourth quarter we were a little more diligent with our focus on those two things."
After Andrew Bogut went down with what was initially described as a sprained knee, the Warriors gave former Cavalier Anderson Varejao some burn. It was a little disconcerting how easily he got to the foul line without actually being fouled. But in the end, the 'ball don't lie' as they say, as Varejao missed 5 of his 8 free throw attempts.
"There wasn't much contact, but Andy, he's a smart veteran, he got them extra possessions and that's part of why he's so valuable," said Matthew Dellavedova after the game. "You love it when he's on your team and you hate it when you're going against him, but he plays hard 100% of the time."
Final Analysis
The media sometimes perpetuates the myth that there is a best way to play basketball, when in fact it's a lot closer to rock, paper, scissor, lizard, Spock.
In this case, all of Golden State's fancy movement is mucked up minus their resident ball-buster Draymond Green to act as facilitator. That's twice as true on defense. Similarly the Warriors can look unbeatable when they hit threes, and very beatable during those stretches they don't.
The key, necessarily, is to apply boot to neck at those moments where the Warriors players lose the thread and upset their consistency. For much of the series that's what the Warriors have done to the Cavaliers. However, with everything on the line the Cavs two superstars did their best Durant/Westbrook imitation, and the Warriors were transfixed.
The loss of Bogut amplified Green's absence, so there's a danger in reading too much into it. With two days off, Bogut may not play him for Game 6 to save him for Sunday's potential Game 7. Absent Bogut, the Warriors don't have a consistent interior defender other than Green. Ezeli will get some run, but is one dimensional. So expect more Varejao in Cleveland if Bogut is injured or done for the year.
Kyrie's step-up performance and James' greater poise ("I finally did a great job of not turning the ball over and got to my spots, got my teammates involved," he said) bode well for Game 6. As we predicted, Golden State couldn't sustain their first half energy into the second half and faltered.
They'll come out hard again in Game 6, but unlike last year when we hoped the Cavs could force a seventh game, we feel almost certain now it will go back to Oakland. After watching the Warriors celebrate on their home floor last year, we can't see the Cavaliers letting it happen again. We think last night showed they had the grit to back that feeling up.
Of course, this goes against everything nearly the entire ESPN prognutsication crew believes, so obviously
it's going to happen
. It won't happen because it's easy, just the opposite. It can never be easy for Cleveland, but that's why it feels so good when the pain stops for us and begins for the Amin Elhassans of the world.
According to Jones, that's the key for the Cavaliers: Poise under Pressure.
"That's what you have to have to beat this team. They're special. We know it. We just have to take the challenge," Jones said. "We KNOW we're special. For us that goes with out saying. But we have to bring that, and like I said be diligent with our focus every possession over 48 minutes to give ourselves a chance to win."
"We just know it's one game at a time, "J.R. Smith said. "We can't get too ahead of ourselves. We have to be humble, play our game and see what happens."
We'll be back at the Q for Thursday's Game 6. We'll be posting video, analysis, snark and jabs at Amin Elhassan. You can follow along with us on Twitter @CRS_1ne, and read out postgame analysis on Friday morning, here in the Scene & Heard section.