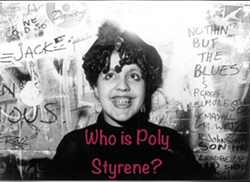 The late Poly Styrene (Marianne Joan Elliott-Said), who sang with the British punk act X-Ray Spex, probably hasn't gotten the credit she's deserved. A feminist punk icon before there were feminist punk icons, Elliot-Said left behind a remarkable legacy.
Who is Poly Styrene?
, a 40-minute BBC documentary, shows how she struggled to accept celebrity status. "It isn't normal for people to be surrounded by people telling them they're great," she says at one point in the movie.
The film includes scenes of her shopping at the market, lounging at home watching TV and playing the piano. We see her recite her lyrics as if they're poetry and talk about her writing process. The movie even includes vintage footage of the band performing.
Akron's
Nightlight Cinema
will screen the movie at 7 p.m. on Monday, July 11. Admission is free.