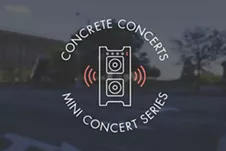 Just in time for the Republican National Convention, LAND studio and Ingenuity Cleveland have teamed up to present a series of free concerts along East Ninth St. Dubbed
Concrete Concerts
, the performances will include an array of musicians and groups that will play concerts in "unexpected places" such as Erie Cemetery, the East 9th RTA Station, the Galleria and Metro Home Furniture Store on Tuesdays and Saturdays throughout the month.
An Our Town grant from the National Endowment for the Arts that supports creative "placemaking projects" that help to transform communities into "lively, beautiful, and resilient places with the arts at their core" helped make the concerts possible.
"By activating spaces along East 9th Street, it's our hope that Concrete Concerts will bring vibrancy to East 9th in places where people least expect it," says Tiffany Graham, a LAND studio project director, in a press release. "We've designed the concerts so there's a music genre or group that will appeal to everyone, giving promotion to local artists, and highlighting artful activity Downtown."
"We're thrilled to be part of a movement where arts and cultural programming can shape and improve the way people experience the city," adds Emily Appelbaum, Ingenuity's program director. "Placemaking and music are such strong tools to accompany the wonderful brick-and-mortar investment taking place in our downtown — and they really speak to each and every citizen's ability to be part of the change."
Here's the schedule:
JULY 9
TriHearn
1:30PM @ Al's Deli
JULY 12
Orquesta La Sonora
5:30PM @ Heinen's
JULY 16
Stephen Haluska
12:30PM @ corner of Huron and E9th
JULY 23
Cello Quartet
5:00PM @ Phoenix Coffee
JULY 26
Funk Yard Experiment
5:30PM @ Willard Park
JULY 27
Mustache Yourself
noon @ Metro Home
JULY 29
Reliving the Roxy
5:30PM @ The Galleria