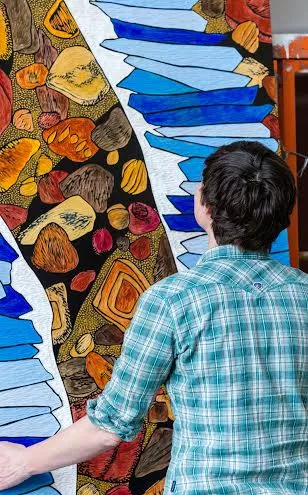 Since 2013, Zygote Press has partnered with the Bunnell Arts Center in Homer, Alaska, to exchange artists for eight-week residencies at each organization. In celebration of this ongoing cultural exchange program, Zygote Press is hosting a special exhibition of past and present resident artists from both Homer and Cleveland.
"We love bringing this 'cool' work to the heat of Cleveland and prospering in this wonderful exchange with the Rasmuson Foundation," says Liz Maugans, Executive Director of Zygote Press. "It has been a rich exchange where our entire Cleveland community gets to connect through the distance with the wonderful city of Homer, Alaska, and our partners at the Bunnell Street Arts Center."
The latest exhibition at Zygote Press celebrates this exchange by showcasing the work of Zygote's current Rasmuson Artist in Residency Sarah Tabbert, as well as previous Zygote resident artist Michael Walsh (Summer 2015) and Cleveland-based artists who have done residencies at the Bunnell Street Arts Center: Elizabeth Emery (Fall 2014) and Amy Casey (Fall 2015).
"Sara Tabbert is the epitome of Alaska: independent, hardworking and deeply connected to her environment and landscape. This is conducive to the work she creates," Maugans continues. "At the Rasmuson Artist Residency Exchange Exhibition you will also see the wonderful work made by Elizabeth Emery and Amy Casey — and Michael Walsh's final two films he made last summer while on residency here at Zygote."
As part of this summer's Rasmuson Resident Exchange program, Tabbert has been busy printing woodcuts of both familiar and foreign landscapes and environments around her. A resident of Fairbanks, Tabbert's Cleveland residency continues through July.
"Most of my artwork is inspired by the natural world," Tabbert says. "Observation and life study have always been important elements of my working process. I combine the information that I gather through observation with other ideas to create pieces that are simultaneously real as well as fantastic. When my art is at its best it is part science and part fairy tale. Training as a printmaker gave me a love of careful craft, a desire to create interesting surfaces, and a sculptor's interest in materials. Carved blocks have become increasingly important to me as finished pieces rather than just a matrix to print from. I continue to explore my ideas through prints and panels, developing an interesting conversation between these related art forms."
During Amy Casey's residency in Alaska, she wanted to continue her exploration of landscape, but also work with locals. Casey asked residents to bring in images of their homes, and she had conversations with each about their homes and lives in Alaska. Each was invited to make a painting and trade Casey, and everyone did. She reproduced the paintings, and will be exhibiting those at Zygote Press.
Elizabeth Emery's work was influenced by Homer, Alaska's bay, sky, wind and mountains. Immediately immersed in her experience, Emery's work reflects the resulting thoughts whirling around in her head.
Working in moving image art for more than a quarter century, Michael Walsh works in celluloid film and video, as well as painting and installation. Utilizing screenprinting, lithography, letter-press and monoprinting processes, Walsh printed directly on blank 35mm celluloid film, before being transferred to a digital format so he could add audio to the final films. For this exhibition, Walsh will be screening two films:
AKU-MATU: Ancestor from the Future
and
The Dust Dress
.
The Rasmuson Artist Residency Exchange Exhibition opens with a reception from 6 to 8 p.m. this Friday, July 8, and remains on view through July 28. Claudio Giacone Orso heads to Homer next and will be in residence from Sept. 18 to Nov. 18th.
Throughout the month, Zygote Press presents other events designed to engage the local art community. First, from 10 a.m. to noon on Saturday, July 9, Zygote members can participate in free, 15 minute critique sessions with Theresa Bembnister, associate curator at the Akron Art Museum. These WIP (Work in Progress) Sessions are designed for non-student artists, who lack access to critical and constructive feedback in their studio practice. The event is open to artists of all disciplines, but the event is limited to eight participants, and registration is on a first-come, first-served basis. However, anyone can participate as an audience member and contribute through an open forum. For more information on how to sign up, visit zygotepress.com
Later in July, Zygote Press will host the first Green Growth Symposium for artists, art organizations and educational institutions to discuss greener options to make their studio practices "healthier, safer, less toxic and more beneficial to your bottom line." The event takes place at Zygote Press from noon to 4 p.m. on Saturday, July 16. The afternoon includes presentations and discussions, demonstrations, a tour of Zygote's green shop. Exploring the topic from all viewpoints, the event will explore how artists, educators, policymakers and funders can improve their health and environment through organizational and professional practices.
All events are free and open to the public.
(Zygote Press) 1410 E. 30th St., 216-621-2900, zygotepress.com