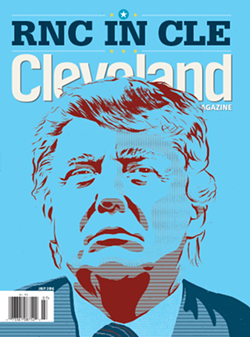 @ClevelandMagazine / Illustratoin by Rob Dobi
Cleveland Magazine's July cover.
"Go live is a funny term," says
Cleveland Magazine
editor Steve Gleydura, of his magazine's new website. "But we flipped the switch on Friday, and I think most people started to see it on Sunday and Monday."
Whenever people first saw it, they likely had the same reaction we did: the
brand-new website (clevelandmagazine.com)
is a much-needed upgrade from the regional publication's stilted, stagnant former online home, a home that Gleydura estimates was built and launched in 2007.
"It's been out of date for six years," Gleydura says, of that product.
The new site, with its larger fonts, geometric, mobile-friendly design, and unique emoji-style subsection imagery, signals not only a new look for Cleveland's monthly magazine, but also, Gleydura says, a change in editorial strategy. In fact, that's what he's most excited about.
"It completely changes how we do things on the web," he tells
Scene
. "We'll be extending what we do in the magazine every month on a daily and weekly basis. We used to just dump the entire issue on the web every month and we're not doing that anymore."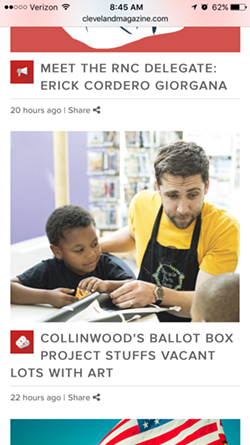 Cleveland Magazine mobile look.
Gleydura says the monthly content will still appear in an incremental way, focusing on more shareable content early in the month, but that he'll "protect" some of the premiere content to encourage readers to buy the print product.
"[The print magazine] is still the most important thing to who we are," Gleydura says. "But there's a real effort to make sure that we're out there participating in the news conversation every single day."
Gleydura laments that some of his staff's strongest work, even heavy-hitting feature stories that testify to immense expenditures of time and energy reporting, have often gotten lost, because the news cycle is so saturated and so fast.
Covering news in real-time is of course the bread and butter of media organizations in the digital age, but as a monthly magazine,
Cleveland
(the flagship publication in
Great Lakes Publishing's regional fleet
) has yet to find a place at the internet's rambunctious table, former Staff Writer Erick Trickey's
sporadic but occasionally scoop-snatching political blog
notwithstanding.
Gleydura wants that to change. And though he says it's not a conscious effort, he's been a more public figure in the regional media of late as well. He now appears in a rotating cast of characters alongside Advance Ohio's content VP Chris Quinn on WCPN's Friday morning reporter's roundtable (a cast of characters, full disclosure, for which yours truly has served as buoyant understudy.) He's also made regular appearances on local FM radio to promote and discuss the magazine's recent issues: its annual suburbs issue, for one, and an issue devoted to millennials.
Speaking of millennials, and other people with cell phones: The new site, which was designed by an in-house team, was built with mobile users in mind. Even the old
Cleveland Magazine
web product — rather the antithesis of mobile-friendliness, what Gleydura now calls the "bad site" — enjoyed nearly 50 percent of all traffic from mobile users.
Gleydura says that the site had been a long time coming. It spent about a year in "actual development," but had been in early stages of design for much longer than that.
And given that the rest of Cleveland has been sprucing itself up for the RNC, often after years of delays, it's only natural that the city's monthly magazine took the opportunity to do so as well.