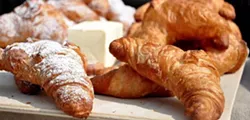 The only thing better than muffins are muffins 24/7. Plus everything else Bloom Bakery has to offer, which is why it's good news that the location on Public Square will stay open 24 hours a day through the duration of the RNC.
Extended hours will begin July 18th to July 21.
"Given our recent entree into the Cleveland food scene, we really wanted to go the extra mile to welcome Convention guests," said Bloom Bakery's General Manager, Logan Fahey, in a release. "Not only are we excited to introduce our delicious beverages and handcrafted food to new patrons, but we're also thrilled to have this opportunity to showcase the distinctive mission of Bloom Bakery."
To read more about their righteous mission, see our story from earlier this year
here
.
The bakery will offer coffee/espresso, pastry, breakfast sandwiches, lunch sandwiches/salads and soup 24/7 during the convention.