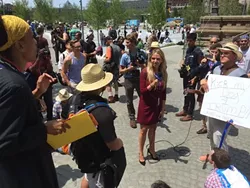 ERIC SANDY
A reporter from the Conservative Review tries to make sense of the weirdness.
The first day of the Republican National Convention is off to a weird enough start, with emotional spurts and brief media frenzies popping up on Public Square and a pro-Trump rally bringing the likes of Alex Jones and Eric Andre to Settlers Landing.
That's the motif thus far: weirdness, at least for those who find themselves wandering around outside the convention itself. Those who crave attention are getting it in droves.
An open-carry advocate — with what appeared to be an automatic rifle slung over his shoulder — became something of a star for a moment as reporters from all over the world descended, peppering him with questions and all-seeing eye of their Facebook Live accounts. In short order, the hordes moved on.
Elsewhere, a man from Kentucky walked another man on a leash — his dog, he said, "Lil Trump" — asking passersby to kick the poor guy. (Some did, and others argued about the ethics of treating another human being like that. "It's not politically correct, because life isn't politically correct," he said often. It was exceptionally bizarre.)
A group of guys with extreme signs ("Judgment is coming!" "Homo sex is a sin!") attracted plenty of cameras as they shouted into the void about Jesus and hell. The louder and crazier people are out there, the more reporters you'll see standing in a circle around them.
Anyway. It's pretty tame so far, with nothing more than the occasional dust-up over, say, what ISIS is really doing.
As far as more "official" events go, Citizens for Trump began marching along the official parade route at 2 p.m., and Organize Ohio will be marching in from East 45th beginning at 3 p.m. Both events are expected to draw thousands of people.