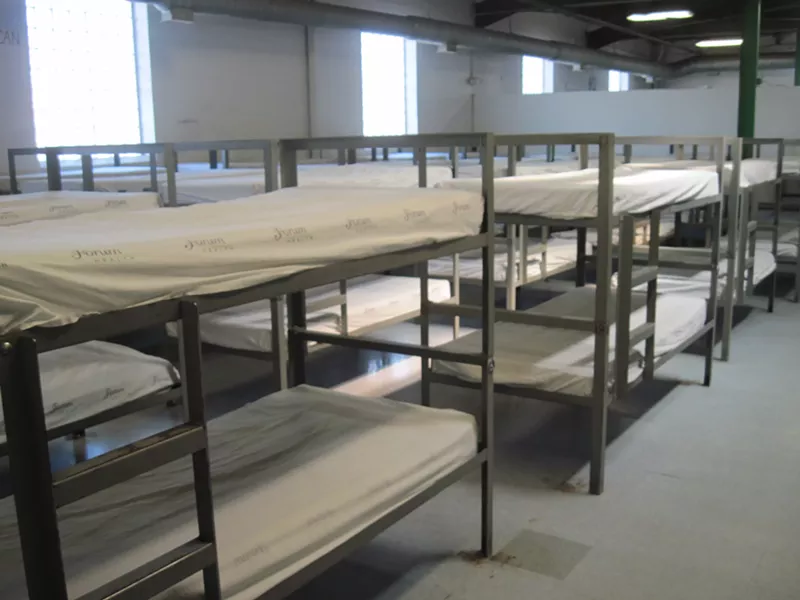 ERIC SANDY
One of the rooms at 2100 Lakeside, during the day when the men are out of the building.
There are more than 20,000 people who classify as homeless in the city of Cleveland. As the city prepared to welcome top political figures, nearly every major media outlet in the country and thousands of people, advocates for the homeless wondered what might happen this week.

Shelters across the city prepared themselves for people to be relocated from the places they normally reside, such as the streets around Quicken Loans Arena and within the high-security zone of the convention. They also had to expect people from out of town to come in and try to blend into the homeless community.


Cleveland police reached out to the homeless community early on, calling on them for help with out-of-towners who may come in to make trouble. Many homeless have taken this request to heart by calling in suspicious activity and making visiting protesters leave areas they have tried to camp in.


"The homeless who live down near the river have told tourists and people from out of town that they cannot stay down with them," Brian Davis, executive director at the Northeast Ohio Coalition for the Homeless, said. "They have told them they have to move on—not wanting any trouble or making police intervene."


Coordinated Intake, a program that serves men, women and families who are newly homeless, has become very strict with the men and women let into the shelters every night, and has turned away around two dozen people over the last week, Davis said.


"Coordinated Intake will refer all individuals there who specifically say they have come to Cleveland to protest," Chief Operating Officer at The City Mission Linda Uveges said. "There is also an overflow shelter called Metanoia, located at 2459 Washington, that Coordinated Intake will also be referring any individual who seems to fit that description."


Davis said it is very hard to tell if shelters are overcrowded this week because the shelter is continually so full people sleep on the floors. NEOCH has had 60 people sleeping at the overnight drop in center they set up at the St. Malachi Outreach Center.


During the RNC security can be a problem, but in order to ensure the homeless population in Cleveland continues to receive the services and shelter they need, shelters are being kept open 24 hours. For people who do not go to the shelter, there is a food distribution center in the Dave's parking lot on Payne Avenue from noon to 2 p.m. with transportation provided.


Davis said HandsOn NEO has many projects available for people to help and lend a hand to the homeless population this week.