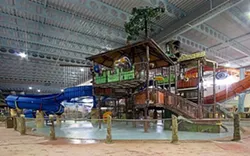 The
Los Angeles Times
reports that
, after an initial wave of Norovirus contractions among the California delegation at last week's RNC, another delegate was diagnosed Saturday.
The latest diagnosis brings the total number to "at least 16." While most of the delegation flew home Friday, the sick delegate was forced to remain at the Erie County resort.
Local News Channel 5
reports that
the delegate began "feeling queasy" at the Convention Thursday night but is "feeling much better" now. It remains unclear if she'll return home Monday.
Kalahari, meanwhile, won't rent out the rooms in which the guests with Norovirus stayed until they are professionally cleaned. That process could take 5 days.
The Norovirus interlude was salt in the wound for the 550-person California delegation, who already had the misfortune of staying at the Kalahari Resort in Sandusky. Despite its lavish amenities and indoor water park, the resort was the most remote of all the delegation hotels, a full hour (without traffic) from the RNC downtown.
Scene
can personally attest that
the commute was a pain in the ass
.