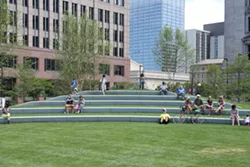 A calendar full of plans of events we can expect to see on the new and improved Public Square has been released.
"It's already a the shining star, and I believe it has the opportunity to continue to shine, to continue to impress, and continue to be that place where our community gathers in a beautiful location," said Sanaa Julien, CEO of the square's marketing and community relations told
cleveland.com
.
Tomorrow, Public Square begins its official programming with the
Star-Spangled Spectacular
, followed by the
Cleveland RNC Host Committee's "Thank You Party"
for the city of Cleveland.
Public Square Activities

Friday, July 29

The Cleveland Orchestra's FREE Star Spangled Spectacular on Public Square, 9 p.m.
The Cleveland Orchestra presents its annual Star Spangled Spectacular with a fireworks finale by Pyrotechnico. Be sure to arrive early and enjoy lunch or dinner at Rebol, an Urban performance restaurant that fuels people to live productively. Grab a blanket, a bol from Rebol, and enjoy a beautiful summer afternoon on Public Square.

Saturday, July 30

Cleveland 2016 Host Committee's FREE Community Thank You Party on Public Square, 12 to 6 p.m.
There will be 10-12 Food Trucks, including (but not limited to, and subject to change):
216 Bistro, Betty's Bomb Ass Burgers, Mason's Creamery, Nelly Belly, Sweet! Mobile Cupcakery,Tour de Cleveland, Sauced Wood Fired Pizza , Off the Griddle, Umami Moto, Gyro George, Papa Nick's

We have 4 bands playing, including (with APPROX. Times):
11:30am – 12:45pm Megan Zurkey Band

1:00pm – 2:30pm Cats on Holiday

2:45pm – 4:15pm Honeybucket

4:30pm – 6:00pm The Feedbacks

Monday, August 1

11:30 AM – 1:30 PM Rachel Brown performs solo on the Green
4:00 PM – 6 PM Rachel Brown and the Beatnik Playboys
6 PM – 7 PM Yoga on the Green
Tuesday, August 2

11:30 AM – 1:30 PM Food Truck Tuesday
11:30 AM – 1:30 PM Tom Todd – Summertime party music, one man band
5:00 PM – 7 PM That 80's Band
Wednesday, August 3

10:30 AM – 12:30 AM Kids of all ages can experiment with a variety of musical instruments provided by Cleveland Music Settlement
11:30 AM – 1:30 PM Victor Samalot performs on the Green
4 – 6 PM Sumrada performs on the Green
6 – 7 PM Yoga on the Green
Thursday, August 4

10:30 AM – 1:30 PM North Union Farmers Market featuring 40 + stands, cooking demos, music;
5 – 7 PM Madison Crawl performs
Friday, August 5

11:30 AM – 1:30 PM City Breaks Studio – Dancing/Dance instruction.
1:30 AM – 1:30 PM Run Avril Run Duo performs
CMA Street Performers throughout the day
8 PM - Rick Smith performs his Magic on the Speakers' Terrace. Rick Smith is a magician, World Record Playing Card Thrower, and was featured on Shark Tank.
Saturday, August 6

9 AM – 10 AM Yoga on the Green
10:00 AM – 11 :00 AM Walk and Talk featuring the newest City Council Member of Ward 3 – Kerry McCormack, talks about Downtown and Ward 3
As part of the World YoYo Competition being held in Cleveland, Public Square will attempt to set the Guinness World Record for most people yo-yoing at the same time. Each participant needed to make up the 2037 will receive a free Public Square Yoyo. Record attempt will occur at 7:30 PM on the Green on Public Square.
Sunday, August 7 (and every Sunday through end of October)

9 AM Yoga
11 AM – 7 PM Bocce Ball on the Green
4 – 6 PM Top Hat Black performs Blues
August 8 – 12

11:30: AM – 1:30 PM Summer Games on The Square. Along with partner WKYC, we'll have RIOdiculous fun on Public Square. Contestants will have an opportunity to compete in a variety of Olympic-style sports, including Ring Spring and Torch Toss.
Monday, August 8

11:30 AM – 1:30 PM Music
4 – 6 PM Music
6 PM Yoga
Tuesday, August 9

11:30 AM – 1:30 PM Food Truck Tuesday
11:30 AM – 1:30 PM Music
5 – 7 PM Music
Wednesday, August 10

11:30 AM – 1:30 PM Music
4 – 6 PM Music
6 PM Yoga
Thursday, August 11

10:30 AM – 1:30 PM North Union Farmers Market
5 – 7 PM Music
August 11, 16 and September 9, 24

Movie night on the Square. Enjoy a big screen experience outdoors. August 11 will feature The Lego Movie at 8 PM. Back to the Future on August 16. September 9 will feature Inside Out and September 24 features SpaceJam
Friday, August 12

11:30 AM – 1:30 PM Music
5 – 7 PM Music
Saturday, August 13

9 AM Yoga

4 – 6 PM Music

August 13 and 27

Kite Making/Flying Kids of all ages can make their own kites, fly them on the Square and take them home! Also learn about different kinds of kites.
Sunday, August 14

9 AM Yoga
11 AM – 7 PM Bocce Ball
August 15, 20, 21, 24

11:30 AM – 1:30 PM Adopt a Pup; Adoption event with Friends of the Cleveland Kennel and adorable adoptables! Take your puppy home right from Public Square. Not ready to take one home, come on down and cuddle for a few minutes on your lunch break.
Monday, August 15

11:30 AM – 1:30 PM Music
4 – 6 PM Music
6 PM Yoga
Tuesday, August 16

11:30 AM – 1:30 PM Food Truck Tuesday
11:30 AM – 1:30 PM Music
5 – 7 PM Music
August 16 and September 7

City Club Forum at Noon on Public Square. Events are free with advance registration. Pre-order lunch from Rebol or enjoy lunch from local food trucks.
August 16

Movie night on the Square. Enjoy a big screen experience outdoors. Back to the Future on August 16. September 9 will feature Inside Out and September 24 features SpaceJam
Wednesday, August 17

10:30 AM – 12:30 AM Kids of all ages can experiment with a variety of musical instruments provided by Cleveland Music Settlement
6 PM Yoga
August 17 and 18

3 PM – 7 PM It's the official pre-party for Paul McCartney – Revolution Pie rocks The Square from
Thursday, August 18

10:30 AM – 1:30 PM North Union Farmers Market
5 PM – 7 PM Music
Friday, August 19

11:30 AM – 1:30 PM Music
5 PM – 7 PM Music
7:30 PM – 10:30 PM PechaKucha. Speakers present a variety of topics on local projects.
Saturday, August 20

9 AM Yoga
11:30 AM – 1:30 PM Adopt a Pup; Adoption event with Friends of the Cleveland Kennel and adorable adoptables! Take your puppy home right from Public Square. Not ready to take one home, come on down and cuddle for a few minutes on your lunch break.
4 PM Cleveland's John Adams will host a Drum Circle on the Square to teach kids a song on the drums! Kids are encouraged to bring drums, buckets, pails....we'll provide the sticks!
Sunday, August 21

9 AM Yoga
11 AM – 7 PM Bocce Ball
11:30 AM – 1:30 PM Adopt a Pup; Adoption event with Friends of the Cleveland Kennel and adorable adoptables! Take your puppy home right from Public Square. Not ready to take one home, come on down and cuddle for a few minutes on your lunch break.
Monday, August 22

11:30 AM – 1:30 PM Music
4 – 6 PM Music
6 PM Yoga

Tuesday, August 23

11:30 AM – 1:30 PM Food Truck Tuesday
11:30 AM – 1:30 PM Music
5 – 7 PM Music
Wednesday, August 24

11:30 AM – 1:30 PM Adopt a Pup; Adoption event with Friends of the Cleveland Kennel and adorable adoptables! Take your puppy home right from Public Square. Not ready to take one home, come on down and cuddle for a few minutes on your lunch break.
11:30 AM – 1:30 PM Music
4 – 6 PM Music
6 PM Yoga
Thursday, August 25

10:30 AM – 1:30 PM North Union Farmers Market
5 PM – 7 PM Music
Friday, August 26

11:30 AM – 1:30 PM Music
5 PM – 7 PM Music
Saturday, August 27

9 AM Yoga
10 AM Cleveland Public Library Director Felton Thomas hosts a Walk and Talk on Public Square
Sunday, August 28

9 AM Yoga
11 AM – 7 PM Bocce Ball
Monday, August 29

11:30 AM – 1:30 PM Music
4 – 6 PM Music
6 PM Yoga
Tuesday, August 30

11:30 AM – 1:30 PM Food Truck Tuesday
11:30 AM – 1:30 PM Music
5 PM – 7 PM Music
Wednesday, August 31

7 AM – 10 AM Annual United Way Pancake Flip returns to Public Square
11:30 AM – 1:30 PM Music
4 PM – 6 PM Music
6 PM Yoga
Thursday, September 1

10:30 AM – 1:30 PM North Union Farmers Market
5 PM – 7 PM Music
Friday, September 2

11:30 AM – 1:30 PM Music
4 PM – 7 PM Music
Saturday, September 3

9 AM Yoga
10 AM – Noon Miniature airplane making/flying; Stop by on your way to the Air Show and make and fly your own mini-wood airplane.
Sunday, September 4

9 AM Yoga
11 AM – 7 PM Bocce Ball
September 6

11:30 AM – 1:30 PM Food Truck Tuesday
September 9

Cleveland Museum of Art CHALK Art CMA professional Chalk Artists will demonstrate and decorate with this washable medium. Kids are encouraged to participate in the art-making by helping decorate The Square
Movie night on the Square. Enjoy a big screen experience outdoorsSeptember 9 will feature Inside Out and September 24 features SpaceJam
September 16 – 18

Hofbrauhaus Oktoberfest – Fall festival with food, beer and music.
September 24

Movie night on the Square. September 24 features SpaceJam
September events that will continue:

Monday, Wednesday, Saturday, Sunday Yoga

Tuesdays – Food Trucks at lunchtime

Thursdays Farmers Markets (through September 30)

Browns Tailgating/Pregaming on Public Square

October events will feature Fall and Halloween Celebrations

November brings the opening of the Ice Rink on November 18, Winterfest November 26 and a MoVember Mustache Party (finalizing date).

Activities to be scheduled in coming weeks:

Crossfit WOD

Giant Game ight

Coffee and a Tip

Cornhole Tournament

Childrens Eye Health Screenings for National Eye Health Day in September

Theater Group Mini Performances

Food and Cooking Demos

Garden How To's

Learn to Skate

Holiday Chorale Groups