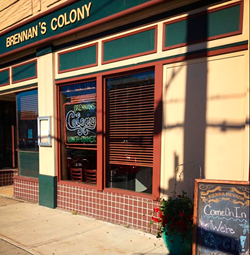 Photo via Brennan's Colony, Facebook
For decades, the Colony has been a fixture of the Cedar-Lee neighborhood of Cleveland Heights. That history ends this coming weekend when the business will close its doors.
But this saga has a surprising and satisfying twist.
Chris Armington, longtime employee of the Colony, and current owner of the nearby Tavern Company, has purchased the business and will relocate his operation across the street.
"It's crazy, I know," he says during a call. "I'm basically going back home."
The Colony has been around for more than 30 years, but business seemed to have suffered in the wake of longtime owner Jim Brennan's death two years ago. Armington, who worked at the Colony for more than a decade during Brennan's reign, had designs on that space all along. In the end, no deal was ever cemented.
"That's what I wanted seven years ago but it wasn't an option then so I bought the second-best place [Tavern Company]," he explains. "My dream was to always own that place."
This weekend will be the last for the Colony and the last for the Tavern Company in its current home. Monday, Arminton will begin the process of restarting the business as his own. Longtime Tavern Company (and Colony) chef Jamie Wynbrandt will make the move, as will the rest of the staff.
Beginning next week, the Colony space will become the Tavern Company.
"I feel like the Colony was JB [Jim Brennan] and the Tavern Company is me," he says. "Why rebrand ourselves again. It took us years to rebrand the Tavern Company."
The move nets Armington more dining room space, a larger kitchen, more parking, and that lovely back patio.
As for the old Tavern Company property, it's for sale, lock, stock and barrel, says Armington.
"I'm selling the business, I'm selling the equipment, I'm selling the liquor license, I'm selling everything."