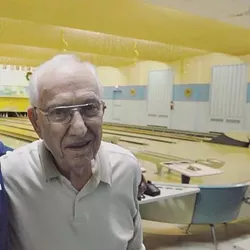 Mahall's Facebook
Arthur Mahall
It was with a heavy heart yesterday that our friends at Mahall's reported the death of the venue's longtime leader and guiding soul, Arthur Mahall. He was 90.
"Art ran Mahall's with his family for decades, after taking over the business from his father in the late-1950s," the Mahall's team reported. "He was a legend, and he will be missed by many."
Mahall's was built by Arthur's father, John Mahall, and opened in 1924. It was a social cornerstone of the westside suburb for decades.
In 2011, Mahall's was purchased by Kelly Flamos; her husband, Colin McEwen; her sister, Emily Pavlick; and Emily's husband, Joe Pavlick.
In 2012, Kate Spirgen, reporting at the time for
Patch
, published
a great little feature
on the Mahall family and their legacy in Lakewood and Northeast Ohio. An excerpt:
"Mayor Celeste used to come in every day for lunch and every Friday for the fish fry, and his son would come in when he was governor," Arthur said.

Upstairs, the Mahalls, including Arthur and his nine siblings, lived in the four-bedroom apartment. Arthur and his sister Dorie were born right above the lanes, where Arthur would work for 65 years.

"The luck that the two of them had from being born there is evident. They're the only two siblings still alive," Tom [Mahall, Arthur's son,] said.
Friends of the family and of the institution have been posting stories and memories
on the Mahall's Facebook page
.