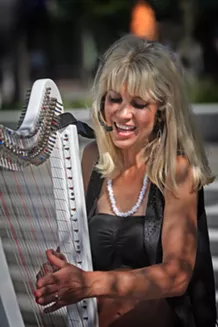 Local harpist Kristy Kline has logged some serious hours on the instrument. She started formal studies at age 12 with Laura Erb, a famous harpist and teacher who worked on the musical arrangements for films such as
The Godfather
,
Love Story
and
Fiddler on the Roof
.
Shortly after that, Kline, who attended Ohio University and majored in harp performance, began performing around town. She led a harp ensemble and performed locally for 12 years at the Ritz Carlton where she had impromptu sessions with classic rockers such as Robert Plant, Roger Daltry and Billy Joel.
Now, she's just announced that she'll pay tribute to Pink Floyd with a laser light show and album cover art exhibit at 8 p.m. Friday, Aug. 26, at the Alex Theatre, which is located at the Metropolitan 9 hotel.
"I love their music," she says of Pink Floyd. "I like the way they've written the material and the lyrics. This will be a complete show and I will do a bit of an art exhibition as well so they can see the cool artwork that's been done in the past. It will be a whole experience with laser lights and dry ice. It's been a challenge to adapt to the electric harp. It's a little different from seeing the average classical harpist sitting there. It's a different take but Floyd's music adapts well to the instrument itself because the electric harp has such a space-y sound."
Tickets
are $9.