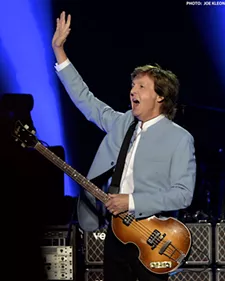 Early in last night's nearly three-hour set at Quicken Loans Arena, former Beatle Paul McCartney, playing in Cleveland for the first time in more than a decade, took off his bluish gray blazer, rolled up his sleeves and unbuttoned his white, collarless button-down shirt, suggesting the workman-like attitude he was about to bring to the stage.
"That will be the only wardrobe change tonight," he quipped as he handed his jacket to a roadie. You can see a slideshow of photos from the concert
here
.
With the hard-driving opening number, "Hard Day's Night," a song he punctuated with a few well-timed shrieks, and the garage-y "Can't Buy Me Love," a track that came complete with fuzzy guitars and plodding drums, McCartney quickly enthralled the capacity crowd. "We are going to have a party in this joint tonight," he said enthusiastically before he stepped to the front of the stage to "drink in" the applause.
Throughout the concert, McCartney, who also plays the Q tonight, shared stories about his late Beatles bandmates, George Harrison and John Lennon. He talked about seeing Jimi Hendrix play shortly before the talented guitarist died. He dedicated "Love Me Do" to Beatles producer George Martin, a guy he described as a "great person" and a "great musician." And sensing all the dedications to people who have passed away might have come off as a big maudlin, he shifted gears for the concert's second half, saying it was time to "life the mood."
And what a second half it was. "Queenie Eye" and "New," two tracks from his latest album,
New
, that McCartney delivered from behind the piano, had a youthful energy to them and led nicely to energetic renditions of "The Fool on the Hill" and "Lady Madonna." The hip-hop-tinged "FourFiveSeconds" became a rousing sing-a-long, and the psychedelic rocker "Being for the Benefit of Mr. Kite!" benefited from some trippy visuals. McCartney introduced the track by talking about how a circus poster on Lennon's bedroom wall inspired the tune.
After delivering dramatic renditions of "Band on the Run," "Back in the USSR" and "Live and Let Die," the latter of which came complete with pyro, lasers and fireworks, McCartney closed the set with the Beatles classic "Hey Jude," happily leading the audience through a fervent sing-a-long.
He then switched gears for the encore, which commenced with a tender rendition of "Yesterday" before seguing into the bluesy Wings' number "Hi Hi Hi" and the Beatles classic "Birthday," a tune that McCartney cheekily dedicated to "anyone who has a birthday this year."
At a time when attention spans seem to keep getting shorter and today's next big thing quickly becomes yesterday's news, McCartney proved that good songs and rock solid musicianship still have a place in the pop/rock world. Regularly switching from piano to guitar/bass and back again, McCartney possesses the kind of musical acumen that's hard to find these days. The guy even played the ukulele at one point in the concert.
His four-piece backing band stayed with him every step of the way, capably accompanying him on a stripped down segment that included a rendition of "In Spite of All the Love," a tune by the Quarrymen, the band that preceded the Beatles, and then plugging back in to deliver hard rocking songs by Wings and Beatles as well as tracks from McCartney's solo career.
Here's to hoping McCartney, a terrific showman who appears to still really enjoy playing live, doesn't wait another decade to come back to town.