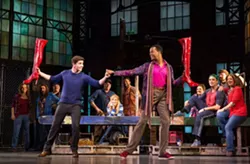 When
Kinky Boots
played Playhouse Square in April 2015, while still running on Broadway, it was a really good performance. The show is back again and, believe it or not, it's even better this time around.
The Harvey Fierstein (book) and Cyndi Lauper (music and lyrics) award-winning musical is back by demand for a short run.
Kinky Boots
is based on the true story of a men's shoe factory in England, which, when the cheap, mass-produced Asian knock-offs invaded the market, wiping out the handmade products, transitions to producing for a niche market: cross-dressing men who needed a sturdy boot that the Asians can't produce.
The story, which was made into a 1999 British TV special, then a 2005 film, centers on Charlie Price, who is left a men's high-end shoe company in Northampton, England, by his father, and Lola, a drag queen who has a fascination with shoes, but especially has designs set on red, spike-heeled boots.
The duo form a partnership when Charlie is faced with bankruptcy, causing the potential laying-off of his loyal employees, and Lola, who, along with her dancing Angels, keeps breaking the heels on their poorly made boots. It's a match made in heaven, except for the prejudices against Lola, and the financial and personal pressures pressed on Charlie.
Take the story, which stresses that to be happy in life you must "accept someone for who they are," add some pop, funk, new wave music, lyrics that are perfectly drawn for each character, humorous situations, and dynamic choreography, and you have a show which was given 13 Tony nominations and garnered six Tony wins, including Best Musical and Best Score.
Handsome J. Harrison Ghee is every bit as good as Billy Porter, the show's original Lola. Ghee lights up the stage. He has a strong singing voice, and the charisma that makes Lola appealing, while showing vulnerability. He is a master at extended farce and is drag queen extraordinaire. His "Land of Lola," sung with the Angels, is a dynamic showstopper.
Adam Kaplan, as Charlie, displays a personal vulnerability and insecurity that perfectly fit the character's underpinnings, yet the strength to act with conviction when needed. He has a strong singing voice and nicely textures Charlie into a real person.
Kaplan's "Soul of a Man " and "Not My Father's Son," his duet with Gee, are emotional tear-jerkers that carry two of the script's messages.
Tiffany Engen is adorable as Lauren, the girl who has a history of making bad dating choices as expressed the well sung "The History of Wrong Guys," but may finally have found the right one in Charlie, if he can ditch his finance.
As Don, Aaron Walpole makes the transition from macho homophobe to charmer with ease as he takes to heart the idea of "accept someone for who they are," the centerpiece of Fierstein's bid for tolerance and acceptance.
The costumes and sets are professionally done and the orchestra, though it gets a little out of hand once in a while, drowning out the singers, is in fine tune.
Director and choreographer Jerry Mitchell has paced the show well, created many exciting dance numbers including "Everybody Say Yeah," and the curtain closer, "Raise You Up/Just Be."
Tickets for
Kinky Boots
, which runs through Aug. 28 at the Connor Palace, can be ordered by calling 216-241-6000 or going to www.playhousesquare.org.