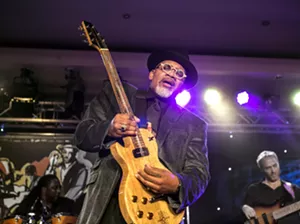 On the hard-driving "Strength to Survive," one of many highlights on singer-guitarist Toronzo Cannon's latest album,
The Chicago Way
, Cannon sings about how "real life" is getting in the way of his dreams. He describes himself as a "broken man" who can't look at himself in the mirror. It's heavy, emotional stuff, and the riveting guitar solos possess a real weight too.
"That's one of the more autobiographical songs on the album," says Cannon, who has held down a day job as a Chicago city bus driver for 24 years, via phone from his Chicago home. "It's about the things I do. I've been to France, Germany and Denmark, the whole thing. For some of the gigs, I'll play the weekend and be on the bus the next morning. I will leave that Thursday and come back on Sunday to drive the bus on the bad side of Chicago. I want to tell someone I just came from Switzerland. They don't care. They're just trying to get to work. When I do drum up a conversation, they don't even believe it."
Cannon isn't bragging. He's just telling it like it is. He says his hope is that the everyday person will identify with feeling frustrated with his or her life and wanting to be a better but not quite getting there.
"I write from the angle that I hope someone else is living the same life as me," he says. "Sometimes, you need the motivation to get to work because you have things you want to do. That's what I try to do when I write. I write for my audience. I see guys 50 and over. Chances are, the guys who are 50 and over have gotten a divorce so they know what [the song] 'Bad Contract' is all about."
Born in Chicago, Cannon grew up on the city's notorious Southside. He says he didn't initially know it had such a rich blues history.
"At first, I didn't know the blues club Theresa's Lounge was right in my neighborhood," he says. "In my house, it wasn't blues. It was just music. Later, you find out there's genres. I just knew it as daddy's music. I really dig radio when I go to Europe. They just play everything."
Because his uncles would patronize Theresa's Lounge, Cannon used to go there as a child before he was even allowed in.
"I knew that they would hang out there, so I'd wait for them there," he says. "They had wild stories. One of my uncles almost got shot. He had a girl waiting for him downstairs. He went across the street to make sure this other woman had her shoes tied. I mean he had to make sure her hot water was boiling — for eggs, of course. When he came back to check on the other girl, she came across the street with a gun. He didn't get shot, but it was a story you hear at the dinner table or a family reunion."
A late bloomer, Cannon bought his first guitar at age 22. He was the assistant manager at a movie theatre, so he had a plenty of free time while the movie was playing. He would go upstairs to the office and "try to get some chords together."
"My sister bought me four lessons, and I got through three of them," he says. "I couldn't get through the fourth one. He was teaching me country and Western. I just wasn't into it. I think I owe my sister some money for that. I feel guilty every time I talk about it in interviews. I hope she doesn't read the interviews".
Throughout the late '90s and early 2000s, he found steady work as a sideman.
"My first gig was a high energy guy named Tommy McCracken," he says. "He would stop a song in the middle. As a guy who just started to play guitar, I was seeing the audience from that vantage point and was really exited. Then, he would give out signals and do all this James Brown stuff. I learned to keep my eye on the frontman."
A few years ago, he embarked on a solo career and since a show stopping performance at last year's Chicago Blues Festival, his career has taken off. With
The Chicago Way
, his first album for the blues label Alligator, he comments on the violence taking place in the Windy City. The album opener, "The Pain Around Me," openly addresses the state of things on the city's Southside.
"Sometimes, people get nervous to write about something political, but there's no political correctness in the blues," he says. "Man is always saying a woman is no good. Sometimes, you have to get on another box about everyday living without going for the obvious lines about the needle hanging out of some guy's arm. I think it worked. I can be wordy sometimes in my songs. [Producer Bruce Iglauer] wanted me to say it in the least amount of words. That was my challenge. I think I delivered."
For the searing "Jealous Love," he teams up with big voiced Melon "Honeydew" Lewis," who matches his boasts with her powerhouse vocals.
"I knew her from the Southside," he explains. "She would come down after hours late at night, and we would let people sit in and jam. She had this big voice. I wanted to break the monotony of my voice. Bruce said it should be my CD, but I didn't know anyone who [added a duet], and I wanted something different. I don't want to be the same Chicago blues man. I need to push the envelope a bit. I just wanted a female voice. If we could have afforded a choir, I would have got a choir from the Southside. Maybe on the next album."
Horns bring a real vibrancy to the punchy "Midlife Crisis."
"I want to break the monotony of hearing organ, guitar, drums and bass guitar," Cannon says. "I want to turn people around. I like real horns where you hear the guys breathing, and you can even hear the spit."
Cannon says he writes songs quickly, so he's ready to start on his next album.
"When I played basketball, I used to trash talk a lot," he jokes. 'When you trash talk, it has to be immediate. You have to trash talk now in the moment. You can't be thinking that you're going to get him later. So things come to me quickly. I have stuff in mind. We have a few songs we even cut that didn't make the album."
Toronzo Cannon, 8 p.m. Friday, Sept. 9, Music Box Supper Club, 1148 Main Ave., 216-242-1250. Tickets: $15, musicboxcle.com.