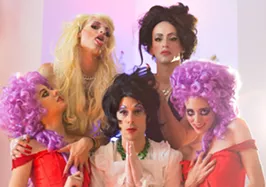 A Rocky River native who still thinks of himself as a lifelong fan of Cleveland sports teams, Of Montreal front man Kevin Barnes, who also spent some time in Mentor, moved to Athens, Ga. nearly 20 years ago because he consciously wanted to embrace the city's rich musical history.
Inspired by watching Athens, Ga.
Inside/Out
, a documentary film about the music scene that featured performances and interviews with acts such as R.E.M., Pylon and the Flat Duo Jets, he sought out the kind of camaraderie he lacked in previous bands.
"Athens was great and is great," he says in a recent phone interview. "I still have a studio there. At the time, I went there, I met all these like-minded people who were into home recording and into the Beach Boys and the Beatles and the Kinks and Os Mutantes and whatever else. We turned each other on to different types of music and collaborated together and encourage each other. It was a really good musical scene to be a part of."
After forming Of Montreal, he quickly befriended indie rock acts such as Olivia Tremor Control and Neutral Milk Hotel, groups that were part of the loosely formed Elephant 6 collective. Even though Of Montreal used the Elephant 6 logo on a couple of its records, it was never officially part of the collective. But then the collective was never really that well organized, either. Barnes has described it as an "unofficial collective." And yet, he's said it was beneficial on many levels because the organizers taught him to do things on a DIY level.
"That was the group I ran with at that time," he says. "Those were my friends and the people that influenced me and encouraged me and helped me along the path that I'm on now. At that time in the mid- to late-'90s, there wasn't as strong of an indie or underground scene. There were some bands and labels like Merge and Sub Pop. There were just a handful of clubs. The scene was pretty small but it was also pretty supportive and there wasn't a lot of money in it, so the people doing it were doing it for the right reasons. I wasn't receiving a lot of encouragement from the outside world but I was getting a lot of encouragement from the other bands."
Of Montreal initially began playing the kind of neo-psychedelic rock for which the other bands in the collective were known, but the band then went in a different, dance-oriented direction on 2002's
Aldhils Arboretum
and has dabbled in a bit of everything since. Prior to recording 2015's
Aureate Gloom
, Barnes spent some time listening to old punk and classic hard rock albums. Those influences seep into the songs on the album as you can hear the influence of Patti Smith, Television and Voidoids but also early Black Sabbath, Led Zeppelin and King Crimson. He ended up between those two worlds — the early prog rock and early punk scenes. Those are the reference points for the album.
Barnes wrote the material on the band's latest album,
Innocence Reaches,
during an extended stay in Paris where he was heavily influenced by contemporary electronic music for the first time in his extensive career.
"I went there to do a writing retreat last summer," he says. "I didn't have much of a plan. I just wanted to go somewhere outside of my comfort zone and work on music for a couple of weeks. The studio is owned by a friend of mine in an apartment complex. I couldn't make a lot of noise so everything had go direct into the console. I was using synthesizers and drum machines. It got me into making dance music again. I caught the bug when I was out there."
Barnes has often used synths but Of Montreal's last couple of records came off as more guitar-centric.
"This record started out as a collaborative effort with the band," he says. "Then, I when I went to Paris and got to working by myself, I got more into working alone and creating things tracks by track. It's half and half in terms of songs that are more collaborative."
A track such as "Ambassador Bridge" features cooing vocals and a variety of bleeps and blips as synthetic drum machine beats cut in and out of the mix. "Chaos Arpeggiating" sounds like a mash-up of the Beatles and Aphex Twin.
"That song is an eclectic mix of influences," says Barnes. "It has almost a spaghetti Western intro and then something more psychedelic and then prog rock. That one is all over the map in terms of its references."
Barnes says the new songs have pushed the band to adopt a theatrical stage show.
"We've been playing the new songs for a couple of weeks and they translate really well live," he says. "It feels like a new chapter for us as a band and it fits in well with what we've done in the past. It doesn't feel jarring to put one of the new songs up against an old song. The stage show is very theatrical, even on a deeper level than what we've done in the past couple of years. It's scripted out in terms of lighting cues and costume changes. It's almost like musical theater, so we have to do almost the same set every night because it's extremely complex and dynamic. We want to put on something that feels very cohesive and is very dynamic. We want it to feel like it's one long piece in a sense."
Given the eclectic nature of previous efforts, Of Montreal has a strong following that gives the band the benefit of the doubt.
"I never worry about an audience's reaction to what I do," he says. "I just do what I am organically driven to do and hope that it feels pure and exciting for the people who hear it."
Of Montreal, Ruby the Rabbitfoot, 8:30 p.m. Thursday, Sept. 15, Beachland Ballroom, 15711 Waterloo Rd., 216-383-1124. Tickets: $18 ADV, $20 DOS, beachlandballroom.com.