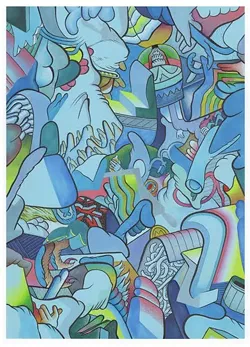 Local artist Justin Michael Will is getting his first solo show this Friday, Sept 16, at Canopy. The highly anticipated show includes more than two dozen new works, as well as prints and pins. During Friday evening's reception, the artist will be busy drawing live in the gallery. Guests will have an opportunity to submit things for Will to draw during the opening, and those selected from a hat at random will get to keep the drawing.
A student of Kent State University and Columbus College of Art and Design, Will discovered drawing early thanks to his mother. Reflecting on his early introduction, Will remembers, "My mother taught me to draw very early on. We'd play a game where she would see how long it took me to guess different objects she would draw. I remember being excited when things came into focus, the allure of being able to create small worlds on paper with a pencil or pen. What was even more exciting — I could make the world look any way I chose."
Cartoons played an important role in his development. With influences from the Smurfs and the Gummy Bears to Ren and Stimpy and the Simpsons, Will credits the cartoons of his childhood as his biggest inspiration. "I have always loved cartoons," he reflects. "I am sort of obsessed with the most basic elements of the art involved in my favorite animated shows: color and line. My work is almost always strongly affected a combination of the two."
For this solo show at Canopy, Will has been busy challenging himself to expand his abilities while following his intuition. He explains, "
Suss the Guts
has been about pushing myself to go with my instincts while taking a few steps into new and uncharted territory. I want to be able to show my range as an artist, and this show is educating me on what that just might be."
Although nothing in the show is larger than 24 inches, Will hopes to exhibit approximately 30 works. With this smaller scale, he focuses on his compositions.
"I'm enjoying working in these sizes because it helps support my methodical approach," he says. "This way I can really focus on these new techniques and try to improve my application throughout. I'd say about 75 percent of the work was made in the past two weeks. I often joke and say 'I draw and paint because I have to, it's like a disease,' when in reality it is quite the opposite. As a chronic over-thinker I believe I create so much work so quickly because it helps keep me centered and focused on positive and productive energy."
Will participated in last week's 2nd Annual Cozy Up! Zine Show at Canopy. It was Cozy Up! co-founders Amber Esner and Phoebe Thomas who introduced Canopy owner Erika Durham to Will at last year's inaugural Zine Show.
"I met Erika through Amber and Phoebe of the Cozy Up! Collective — two of Cleveland's brightest and hardest working creatives," says Will. "She hosted the duo's first zine show last year and we talked then about showcasing some of my work in her shop and ultimately putting together a solo exhibition. She has great passion for what she does, I'm very happy to be working with her on this."
Drop by Canopy for the opening between 6 to 10 p.m. this Friday, Sept. 16. Can't make it? Following the reception, the show will remain on view for two weeks. For more info on Justin Michael Will, visit
justinmichaelwill.com
or follow him on Instagram @justinmichaelwill.
(Canopy) 3910 Lorain Ave., 216-309-1090, canopy-collective.com/