Sam Allard / Scene
Mayor Frank Jackson talks; Dr. Delos "Toby" Cosgrove LONGS TO SUCKLE AT YOUR SOUL'S TEET.
At a live event hosted by
The Atlantic
Tuesday evening at Mitchell's Ice Cream HQ in Ohio City
,
city leaders chatted for no discernible reason about Cleveland's "renewal."
Atlantic
Managing Editor Ron Brownstein
led two conversations
: the first with Mayor Frank Jackson and Cleveland Clinic CEO Dr. Toby Cosgrove, the second with a panel of entrepreneurial change-agents. CleCoPoCo Co-Chair Rhonda Williams and beloved Chef Jonathon Sawyer — who also catered the event — attired in Kings-of-Leonine threads, were among them.
Though the spirit of the eventide dialogues was predominantly self-congratulatory — the quote unquote "rich and resonant conversation" being old news for most locals following the region's hottest narratives — any opportunity to hear Mayor Jackson speak at length is valuable, especially since he's presumed to seek an unprecedented fourth term in office next year, a presumption with which no one seems to be all that bothered.
To a packed house of invite-only guests, (City Club boss Dan Moulthrop, City Councilman Zack Reed, JumpStart's Ray Leach, The LGBT Community Center's Phyllis Harris, to name a few) Jackson fielded routine-ground-ball questions that amounted, unbeknownst to an earnest Brownstein, to a greatest hits album of the Mayor's most recent State of the City Addresses.
Dr. Cosgrove, who calls Mayor Jackson "Frank," was little more than a decorative side-show. He sat with his legs crossed, and after an early string of questions about the Clinic's hiring practices he chimed in only briefly, announcing that the Clinic had voluntarily raised its minimum wage to $12 per hour last year. (The Clinic, by the way, employs 50,000 people, 20,000 of whom are nurses, and spends $2 billion per year on goods and services, 20 percent of which comes from from regional vendors.)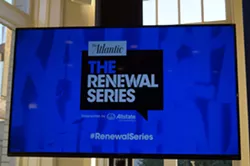 Brownstein, likely aware that Cosgrove was playing second fiddle despite sharing top-billing, asked him about both the renewal of the school levy and the city's proposed income tax increase, both of which Jackson was far more equipped to defend, and eventually did.
Generally, though, Jackson merely reiterated priorities that he's stated in more or less identical terms for years;
certainly at his most recent State of the City address,
when he stressed the need for equity across the city and stumped for an income tax increase by appealing to Clevelanders' commitment to reform.
Tuesday evening's iteration of the #JacksonTalkingPoints:
At the outset, he replied to a question about the city's most positive trends by remarking that "people" were Cleveland's greatest asset. He cited locals' willingness to welcome visitors during the RNC as a prime example. "They not only said hello, but what can I do for you," Jackson said.

Regarding city development and a perceived lack of equity, Jackson averred that "the most important thing is not just talking about it, but actually doing something."

Asked if Cleveland's future workforce growth would be in the 'eds and meds' sectors, Jackson replied that "once we begin to narrow, and say we're focusing on this, we create a problem for ourselves. Everything comes together. You need it all in order to be successful... We want to be an exporter of things, not just a consumer of things."

Both Jackson and Cosgrove impressed upon Brownstein the importance of education, and so Jackson was asked to give the Cleveland Plan a report card: "If you're expecting to see complete change and complete enlightenment in four years, it's not gonna happen. It's work. You have to put the work in. If you put politics and BS in, that's what you're gonna get out."

As an addendum to those remarks (and here Jackson acknowledged that he "always has to mention" this): "I do not believe that we should be educating people just to fill a job. We should educate an individual, a child, so that that child is a whole child and make good life decisions. And it just so happens that you get a good employee out of that."

Placing the school levy in context: "We did not ask for a permanent levy in 2012 because we wanted to be held accountable. I actually wanted that accountability to occur in my next term so that I wouldn't blame somebody else. As a result, this is the accountability side."

On the income tax increase: "Since the recession, we have gotten about a $50 million increase in income tax, but I'm still at recession levels in terms of revenue. Those are state policies putting restrictions on us."

On youth violence prevention: "People have to feel as if they're part of something in order to protect the integrity of that something."

On policing: "We live in an urban setting, not in some kind of Mayberry." / "One of my concerns with the Consent Decree was that it didn't go far enough and address the criminal justice system as a whole."

Jackson responded to more recent events as well. He wasted no time in castigating John Kasich and the Ohio state legislature for its invalidating of Cleveland's local hiring laws, and — responding to a question from the audience — re-calibrated the minimum wage argument as more a political battle than a social justice cause.
"I don't think anybody in council, certainly not in my administration, is opposed to increasing the minimum wage," he said. "...Let me point out to you: The issue is being portrayed as if it is about the poor, as if it is about those who are less fortunate. This is a political agenda in a political year. The Democrats are doing that. On the Republican side, I got them limiting our ability to hire local on billions of dollars of development. The Republicans will say, 'you can keep your development, but you can't benefit from it.' On the Democrat side, they will say, 'everybody should have a higher wage, and we'll just stop development.' I'm not opposed to minimum wage, to $15 — it could be $20 for all I care. Just don't put me at a disadvantage for economic growth."
Yes, Growth continues to be chief among the concerns of Cleveland's political and business elites — the Greater Cleveland Partnership was of course formerly known as the Greater Cleveland
Growth
Association — and the trump card in debates about the income tax increase on November's ballot.
Jonathon Sawyer, in the evening's second conversation, said he'd like to see a million people living in Cleveland in five years. Toby Cosgrove, in the first, said that Cleveland must "keep the momentum going."
"We've got to continue to have great growth here and attract people," he said. "We have a convention center, we have downtown. I just think that we can't afford not to support [the tax increase] as we go forward."
And yet, recent taxes and tax increases have gone toward funding lavish projects that, though they certainly contributed to attracting things like the RNC, have resulted in financial catastrophe for the region. Just ask the county, which now finds itself more than
one billion dollars
in debt — a crippling, poop-your-pants figure — thanks to this very same obsession with growth.
Now that the region's credit card, in the preferred metaphor of County Executive Armond Budish, has been maxed out with the purchase of so many shiny toys, Jackson seems almost audacious to suggest that voting for a tax increase tests locals' commitment to reform.
Indeed, the truly reform-minded resident might be more inclined to vote no. The region's leaders might then smack their foreheads and remember that they're supposed to act as responsible stewards of taxpayer dollars. Now that'd be a reformation.