Sam Allard / Scene
Crew from Independence Excavating approaches the gazebo.
Before the rain came at Cudell Recreation Center Wednesday morning, a three-man crew from Independence Excavating —
"Earth Now, Moon Later"
— began the slow and deliberate process of dismantling the gazebo where Tamir Rice was shot and killed in 2014.
In front of TV cameras, local reporters, and a handful of observers and quiet demonstrators, the crew removed the concrete benches, and the memorial items atop them, from inside the gazebo and began to dismantle the roof with shovels and hooks.
As reported last week, the gazebo will be deconstructed, stored temporarily at a local site and then transferred to the Stony Island Arts Bank in Chicago.
Former City Councilman Jay Westbrook has helped coordinate the logistics. He was on scene Wednesday morning, saying that he was there on Councilman Matt Zone's behalf. Zone was said to be out of town.
Throughout the cloudy morning, reporters jotted down notes and quotes and watched patiently as the crew went about their business (very respectfully, it should be noted).
Due to the nature of the disassembly, the construction site was incredibly tidy. The shingles and wood from the roof were placed in black garbage bags while the men were on the roof and then carefully laid out in the garden adjacent to the gazebo. The work is expected to take three days.
Photos below: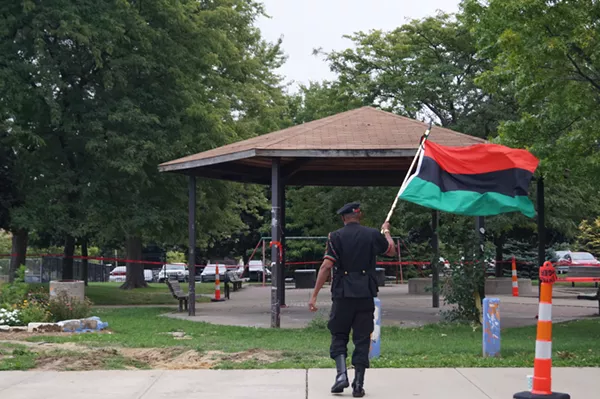 Sam Allard / Scene
Black Man Army on scene.
Sam Allard / Scene
Former Councilman Jay Westbrook answers questions from Cleveland.com's Cory Shaffer. (Westbrook said he was there on behalf of Councilman Matt Zone, who is out of town.)
Sam Allard / Scene
The crew places the stuffed animals from the gazebo memorial in the adjacent garden.
Sam Allard / Scene
Pierre Nappier, a regular demonstrator (and Donald Trump supporter), went to Cudell Wednesday to speak out against what he described as the "Neo-Nazi" Cleveland Police department.
Sam Allard / Scene
Caution tape, flapping in the wind.
Sam Allard / Scene
The gazebo's ceiling.
Sam Allard / Scene
Going at the shingles with shovels.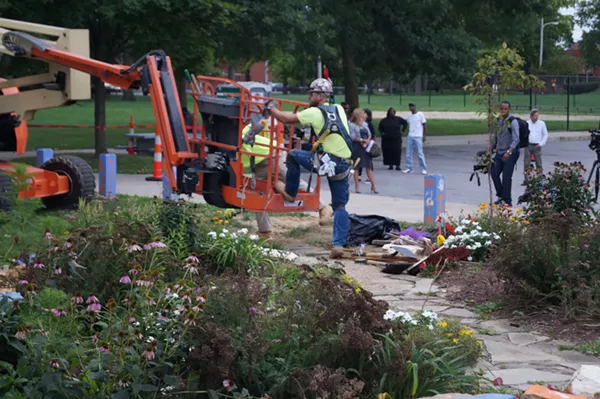 Sam Allard / Scene
A very tidy excavation site; the crew loaded shingles and wood into black garbage bags and placed them in the garden for storage and ultimate transfer to Chicago.