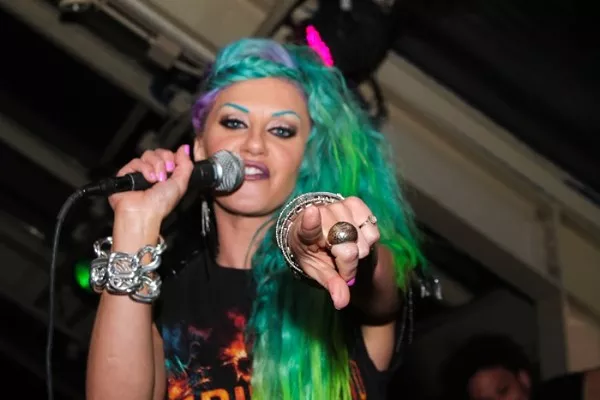 EMANUEL WALLACE
Miles, in 2014
A federal prosecutor has charged 12 people with conspiring to distribute cocaine around Northeast Ohio. Among the indicted: local
"pop/EDM" artist and Instagram personality Cali Miles.
According to the indictment, the alleged cocaine dealing took place in 2013 and 2014. A man named Darrien Smith sold large amounts of cocaine to Brandon McKinnie, who in turn sold it to Joseph Martin. From there, the cocaine was sold to a cadre of lower-rung dealers, as the indictment outlines.
Cali Miles "arranged cocaine sales" for a man named Bobby Champagne.
If you don't know Miles from the local drug scene, apparently, you might know her from the local music, modeling or nightlife scene. (She also claims LA on her
Instagram page
. On
Twitter
she says she's a music artist, model, and vegan. She also led and recruited for the
Bomb Squad.
)
If convicted, each defendant would likely face a different sentence based on his or her role in the coke ring. For Miles' 25,000 Instagram followers, we'd imagine the prison selfies will be particularly great.
Here's the full list of those indicted:
Darrien Smith, 43, of South Euclid
Brandon McKinnie, aka Fat B, 31, of University Heights
Joseph Martin, aka Joe Caddy, 31, of Cleveland
Tristan Ingram, 28, of Parma
Robert Serina, aka Bobby Champagne, 36, of Cleveland
Wesley Ely, 39, of Parma
Christine Hoenie, aka Cali Miles, 34, of Cleveland
Ben May, 23, of Noblesville, Ind.
Luis Cabrera, 27, of Cleveland
Francisco Sanchez, 34, of Brook Park
Kenneth Paden, aka Chop, 38, of Cleveland
Clifton Coleman, 55, of South Euclid