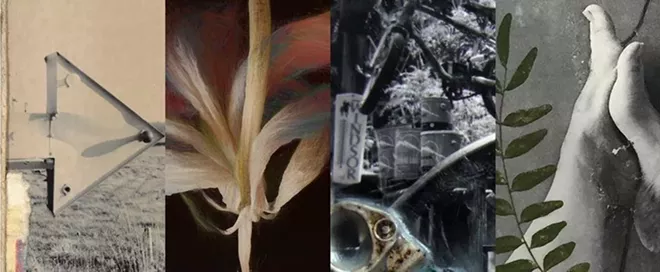 As October approaches, the Cleveland Print Room begins its fall schedule with a group exhibition challenging four Cleveland-based photographers in terms of both content and process.
Perpetual Ephemera
includes new work by local artists Preston Buchtel, Ryn Clarke, Hadley K. Conner, and Raheleh Mohammad. The artists explore their personal histories through a variety of media, including both traditional and alternative photographic processes.
"All four artists work primarily in digital and analog photographic mediums, and while some utilize digital collage, collectively their work has been traditional in presentation regarding mats, glass, and frames," says Shari Wilkins, director of the Cleveland Print Room. "The exciting new work will debut at the Cleveland Print Room with each artist given a great deal of latitude. Photographer Hadley K. Conner curated the show."
Preston Buchtel earned his Bachelor of Architecture from Kent State in 1992, after receiving his Bachelor of Fine Art from the Cleveland Institute of Art 1988. Last year, Buchtel presented a solo show at Kenneth Paul Lesko Gallery on the second floor of 78th Street Studios. Last year, in addition to his solo show, Buchtel exhibited in group shows at the Butler Institute of American Art, Artists Archives of the Western Reserve and the Cleveland Print Room. In 2011, Tremont's former Brandt Gallery hosted his first solo exhibition.
Ryn Clarke experiments with photography on various materials, including paper, metal, acrylic, encaustic and alternative processes. Clarke studied fine art at Marymount University from 1967 to 1969.Her work has been exhibited in various galleries, private collections and corporate and medical permanent collections throughout the United States. Locally, her work resides in the Cuyahoga County Building, University Hospitals, General Electric, Southwest General Hospital and much more.
Hadley K. Conner is an artist, teacher and musician. Using film and darkroom processes exclusively to create her images, Conner teaches high school level darkroom photography full time, as well as classes and workshops for adults at local colleges and the Cleveland Print Room. A graduate of the Cleveland Institute of Art and Art Academy of Cincinnati, she considers herself both a photographer and printmaker.
Raheleh Mohammad is a native of Tehran, Iran. Since moving to Cleveland, Mohammad's work has been exhibited in group shows at the Artists Archives of the Western Reserve, BAYarts, Cleveland Print Room and Twinsburg Public Library, as well as PhotoPlace Gallery in Middlebury, Vermont and twice at PH21 Gallery in Budapest, Hungary.
Perpetual Ephemera
opens with a reception from 5 to 9 p.m. this Friday, Sept. 30 and remains on view through Nov. 5. Although the artists will be in the gallery for informal discussion during Friday's reception, CPR hosts a gallery talk with Buchtel, Clarke, Conner and Mohammad at 1 p.m. on Saturday, Oct. 22.
(Cleveland Print Room) 2550 Superior Ave., 216-401-5981, clevelandprintroom.com