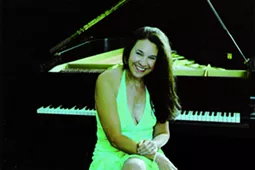 New York-based singer-songwriter Christine Spero fell in love with singer-songwriter Laura Nyro's music when a friend of hers gave her a copy of Nyro's
Eli and the Thirteenth Confession
.
A Rock Hall Inductee, Nyro became one of the most covered artists in the 1960s and 1970s with tracks such as "Eli's Coming," "Stoned Soul Picnic," "And When I Die" and "Wedding Bell Blues."
A couple of years ago, Spero teamed up with drummer Peter O'Brien, bassist Scott Petito and multi-instrumentalist Elliot Spero to form the
Christine Spero Group
and pay tribute to Nyro. The group has become a sensation and performed at various music festivals. Now, it's slated to play at 8:30 p.m. on Friday, Oct. 7, at
Nighttown
in Cleveland Heights.