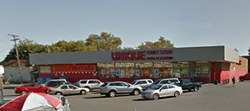 Unique Thrift Store in Ohio City is closing. The store's last day of business will be Saturday, Oct. 8, an employee confirmed to
Scene
.
And based on what we've heard, it's an emotional day at the store; employees found out the news just this morning.
"The decision was made by the corporate office to close the store," is what we got as an answer from an employee working the phone today.
It's another abrupt blow to a neighborhood where rising costs are changing the tenor of who lives where and who buys what. Unique has been something of a westside landmark for decades. Rooted in the community, it's nothing short of a beacon for those who laid the groundwork of the neighborhood — and those who rely on cost-effective goods within walking distance.
The store
repeatedly won "Best Thrift Store"
in our annual Best Of Cleveland voting contest.