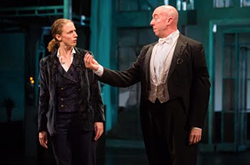 If you've ever felt hemmed in by the expectations of others, you can find at least one—or maybe five or six—characters to relate to in this lyrical Shakespeare play.
The twins, Viola and Sebastian, start off by being shipwrecked, with neither aware the other has survived. To avoid getting hit on, Viola dresses as a young man named Cesario then gets a gig with Orsino, the Duke of Illyria, who's hot for Countess Olivia. But that's only the biggest switcheroo, since many other characters are trying to express themselves anew, seeking fresh identities and different pathways.
That's the fun of this play, which is played, often outrageously, with the pangs of love and the confusion that always attends that emotion. The production, under the direction of Drew Barr, finds many delights in Will's words, but it tends to overstep in the humor department, with some of the jocular scenes cranked up to cringe-worthy levels.
As Viola/Cesario, Cassandra Bissell is effective in both genders as she fends off the romantic sighs of Olivia, the woman Cesario has been assigned to woo for Orsino, the Duke of Illyria. Because Viola is in love with her boss Orsino. Confused yet? Good, you're in exactly the right place. There's nothing Shakespeare liked more than entangling his characters in a snarl of mistaken identities and then finding a way to smooth out the mess by the end of the piece.
Of course, complications arise when the hard-drinking and aptly named Sir Toby Belch (Aled Davies) prowls around Olvia's compound with his partner in lewdness and frivolity, Sir Andrew Aguecheek (Tom Ford). Davies and Ford leave so stone unturned and no fart un-wafted as they wring laughs out of the audience. And they can be funny, even though the strain of trying to be hilarious all the time can be exhausting at times.
Belch and Aguecheek get sideways with Olivia's pompous steward Malvolio (a righteously stiff Lynn Robert Berg), and they are soon plotting with Olivia's clever gentlewoman Maria to make a fool of Malvolio, who himself has designs on Olivia. This leads to the famous scene where Malvolio wears yellow, cross-gartered stockings, having been tricked into thinking Olivia loves these items when in fact she detests them. In this production, Kim Krumm Sorenson, has added a black corset to the costume, making Berg look like a refugee from an low rate BD/SM porno. But hey, it gets plenty of guffaws.
The Sebastian part of the story gets short shrift in this staging, mainly because Jonathan Christopher MacMillan seems less than involved in fashioning a distinct character. So the extra-added mistaken identities fall a bit flat, when Olivia mistakes Sebastian for Cesario, and so forth. 12th N is also known for its songs, most of which are delivered by Feste, the jester in Olivia's court, and M.A. Taylor handles the tunes with ease, although his humorous asides during the play could use a bit more spark.
The production design by Russell Metheny, however, is handsome, with the estates of Orsino and Olivia superimposed on each other, and sharing their look of elegance that's just slightly past its sell-by date.
So if you can get past some of the less than artful attempts at humor, this Twelfth Night has much to recommend it.
Twelfth Night
Through October 30 at Great Lakes Theater, Hanna Theatre, 2067 E. 14th St., 216-241-6000.