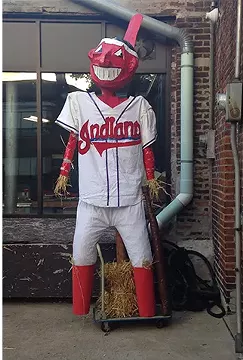 Courtesy: Cottage of Flowers
The bespoke papier-mache head of a decorative Chief Wahoo scarecrow was stolen Saturday night after less than 24 hours on display in front of the Lakewood flower shop Cottage of Flowers.
"The first thing someone said was, maybe it was a Boston fan," said Tina Russell, owner of the flower shop on Madison, in a phone call with Scene. "But it also could've been an Indians fan. This head was magnificent."
Russell said her son made the head using nothing but an image of Chief Wahoo for inspiration. She said her son would make another one, "but the enthusiasm's not there."
News Channel 5 first reported
the theft, along with Russell's phone number, but Russell said she hasn't received any calls or reports with information yet. Unfortunately, the list of potential suspects is long: late-departing Red Sox partisans; early-arriving Patriots fanatics; Wahoo lovers wanting to commemorate the ALDS; Wahoo haters wanting to make a statement; drunken Lakewood revelers.
The good news is, a headless Wahoo is in keeping with the Halloween season.
Russell told Scene that in lieu of another head, she may put the scarecrow back out on display in front of her shop today with a sign asking passersby if they've seen it.
Monday afternoon, the Cleveland Indians take on the Red Sox at Fenway Park for game three of the ALDS. Cleveland could clinch the series with a victory.
Monday is also Columbus Day /
Indigenous Peoples Day.