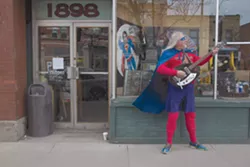 City Council will vote next week whether to apply new restrictions to street performers downtown.
Current law allows performers to remain on the street until 11 p.m., but new legislation working its way through council would bump that back to 10 p.m. on Fridays and Saturdays and 9 p.m. every other day of the week. (Performances would be allowed until 11 p.m. during "special events," like the RNC or a World Series parade.)
Councilman Kerry McCormack, who introduced the ordinance, told Cleveland.com that downtown residents have been complaining about the noise and specifically cited
sleep deprivation
. "There are almost 15,000 folks living downtown, and they also deserve the high quality of life we seek in our other neighborhoods," he told reporter Sara Dorn.
Indeed, with the
rising downtown population
, Cleveland gets to sidle up to the Big Cities Table and start actively balancing the needs of residents against the entertainment that draws outside spending money. It probably also goes without saying that that outside spending money is usually a source of income for street musicians and performers. (Just two weeks ago,
we made the point
— again — that the city of Cleveland too often shrugs off the needs and concerns of artists after using their creative work as a #branding gimmick.)