Sam Allard / Scene
Photographer Darlene Beiter snaps a photo.
A gathering Tuesday evening at St. Paul's Community Church in Ohio City was the third event that brought together police officers and residents for a photo series that aims to depict them side by side.
Al Wasco, a longtime Ohio City resident, has coordinated the series, called 'Black & Blue Side by Side,' with local photographers and what he characterized as "enthusiastic support" from city officials and the Cleveland Police Department.
(You can see photos from the series taken Tuesday at the
Black & Blue Side by Side Facebook page
).
Photographer Billy Delfs, who's coordinating the team of volunteer photographers, said the goal is to have one or two more community events before a gallery show in January. He's personally shooting for 20 or so portraits to appear.
Sam Allard / Scene
Delfs capturing a side by side.
"Sometimes these relationships — between people and police officers — are in question," Delfs told Scene while he organized a shot Tuesday, with the aid of former district commander Keith Sulzer. "It's just about breaking down stereotypes and showing that these people are people too."
Delfs is a commercial photographer who regularly works with local ad agencies and national magazines. He said he jumped on board right away when Al Wasco got in touch with him.
"Hopefully this allows people who aren't police officers to have a little bit more respect for police, and police officers to have a little more respect for the people who aren't," he said. "It's about breaking down stereotypes on both ends."
Delfs said one thing he'd also like to see incorporated into the gallery show is a text component, where officers and residents in the photos privately write down their thoughts or experiences, and the written material is displayed alongside the photo.
Steve Wagner, one of the photographers lending his services to the project, said that he's been stopped once or twice in his car by police and knows how humiliating and tense that can feel.
"I can imagine, over time, that if that happened again and again and again, how that would affect a person psychologically," he said. "This series won't solve the issues that we're seeing in the news, of black men being shot and killed by police, but it can help. It helps these kids see police in a better light. There are good police. There are good people."
Most of the photos will be full-length portraits, like the one below, taken by Delfs. Photos have been collected at a "Coffee with Cops" event and at a "Pinball with Police" event at the Superelectric Pinball Parlor in Detroit-Shoreway. Photographers Darlene Beiter and Janet Century are also contributing to the series.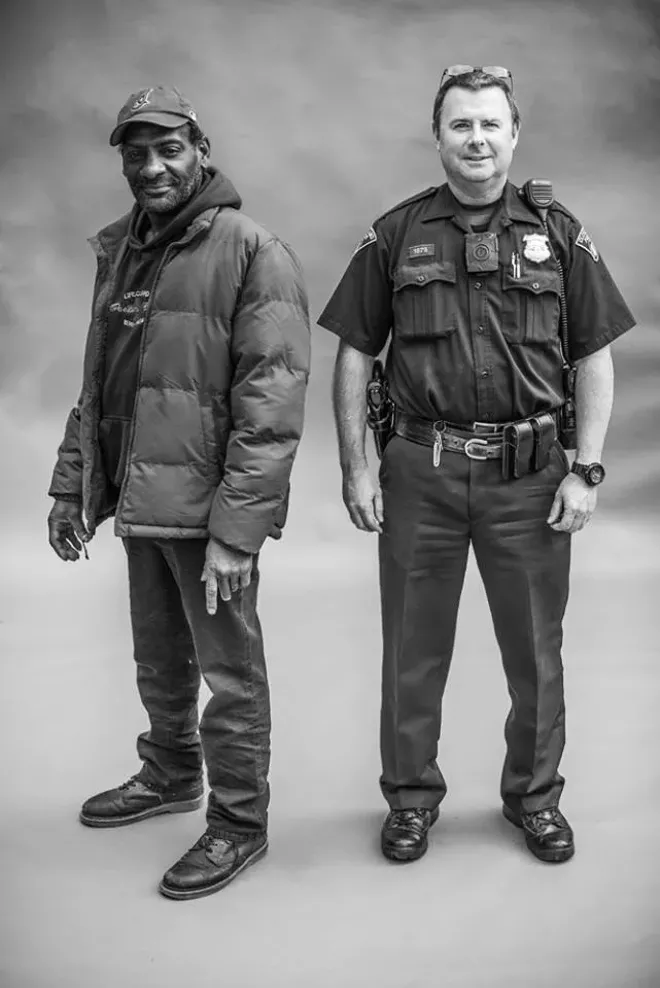 Photo: Billy Delfs (Facebook: Black & Blue Side by Side)