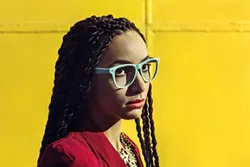 Jazz singer and bassist Esperanza Spalding released her debut,
Junjo
, in 2006, and the album quickly established her as a rising star.
A favorite of President Obama, who asked her to play at his Nobel Peace Prize concert in 2009, she surprised everyone when she won a Grammy for Best New Artist in 2011. The award-winning album, 2010's
Chamber Music Society
, featured gorgeous ballads and gentle jazz tunes.
Earlier this year, Spalding kicked off a tour that brings her to the Kent Stage on Oct. 23. The tour follows sold out performances across South Korea, Japan, Australia, Europe and North America. It supports Spalding's latest album,
Emily's D+Evolution
, a concept album about her alter ego. She recently phoned from a Charlotte tour stop to talk about a few songs on the heady release, which features accessible funk and jazz grooves.
"Good Lava"
I think intuition has an intelligence and a process that is much broader and faster in terms of synthesizing information and what we can do with our rational, conscious mind. I had no immediate understanding of why "good lava" was an allegory. I was writing this project for Emily. When inspiration came for a song came for the record, I would just write it. I felt like I was working for this Emily character and trusted that it was part of her narrative. Over the last couple of years, I understand what "good lava: means. Over the spring, I saw an exhibit that Bjork put on about virtual reality in Sydney, and in her first piece, her body became a rift in the earth, and it turns into a lava flow and then an eruption. I picked up on a theme that a lot of people are coming to terms with which is the sense that we need a seismic shift. We need a big change. We need to figure out a way we can operate from a deep sense of humanity and hope that I believe lives right down under the surface of most people. Most of reconcile with what should be and could be with what "must be." Part of the allegory of "good lava" is allowing that rift to happen and letting it flow out. Even if it burns the structures you spent good time and money on, it's going to have to come out, and lava can become rich nourishing earth and land and ground to support life. Those aspects of "good lava" as an allegory, I've come to understand the last couple of years. In the beginning, it was a song I did my best to make sound great and well-formed. It was Emily's inspiration.
"Unconditional Love"
Live, that song happens much later in the set. On the album, it's nice that they're next to each other. That's the beginning and the end. If you start in a place where you're going to let it flow and stop fighting the rift that's inevitable and let the identity and your hopes and your fears flow out. You can unleash a seed that grows. Once you allow that to happen, it becomes possible to experience unconditional love. You're not fighting against yourself or the structure that can be built up around yourself. If you're exposed and living with vulnerability in the world, I feel I can fully accept others and forgive and accept all the madness and beautify and violence and sweetness and nourishment that's there. That's really hard and it's challenging to do that. That is a life long project. They are definitely related. If we can encourage each other to erupt our good lava, it's more likely that we can unconditionally love each other.
"Judas"
I was watching a documentary about Bob Dylan. It's funny that when he plugged in his guitar and played electric, people yelled that he was a Judas. I didn't really grow up in the church but I know the history about Judas. I heard that story and thought, "Wow. I wonder what that phrase means colloquially." It means you betrayed an agreement that we all had. You betrayed what we upheld to be superior or holy. You turned your back on our value system. I think that term is thrown around a lot, but I identify with it more as a musician. I realized that we're all Judas to somebody and it doesn't take much to become a Judas. In fact, he was the hero to most people at the time. Jesus was not a popular dude. He only had 12 apostles. If you were going to move in line with the dominant cultural thought, you would be on the side of Judas. What came to mind was men and women whose circumstances have funneled them into a position where they are constantly thought of as a Judas. I thought it must feel really shitty to be considered a Judas in your culture and how you receive that appendage in your life. Whether it's used in verbiage or not, you feel it. I felt like writing a song from that perspective.
"Funk the Fear"
It's about living your life. There's no one here to tell you what to do. Often, we don't reach out for the things we want because we're not good enough or smart enough. It's like, "Who am I to get my degree in chemistry?" "Who am I to start a garden in the hood?" "Who am I to talk to that girl?" "Who am I to become a journalist or to tell my wife that I love her, but I can't do it anymore or to tell her or him that we can stick through it and get through it together." It may take years for us to come around to where we're brave enough to come around to where the compass is pointing but it shows us what our shortcomings are. It's crazy to live your life like that. It's hard for me to live by it too but I mean it. I tell myself that regularly. Emily gets wrapped up in the question and trying to find the justification for what she will do in her life. She starts to get lost in the paralysis and the sea of data and knowledge. The only thing that can break her and her new friends out of that is to live and figure that shit out. If you funk the fear and live, it's guaranteed. It's a law like gravity. You will live and you will find it.
"I Want It Now"
Emily is a playful character. That's what I feel comfortable covering the themes that I do. She comes to look with fresh eyes at a few topics. As a person embodying her or portraying her, for me to have that exploration, you get a taste for it. It's scary and challenging. It is fun to break shit down and rebuild it and make new friends and ask them to play with you. Breaking down and rebuilding is a common theme on the album and the quickest definition I can give. Once you have a taste for it, you want to do it all the time. Emily wants everything. She wants today and tomorrow. She wants to have a party and have fun. I changed the Veruca Salt lyric to "I do want to share it" because I want to share it. It's a bar of chocolate. I'm like the bar of chocolate. I want to make it happen.
Esperanza Spalding Presents: EMILY'S D+EVOLUTION, 8 p.m. Sunday, Oct. 23, Kent Stage, 175 East Main St., Kent, 330-677-5005. Tickets: $35-$50,
thekentstage.com
.