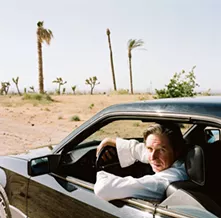 Autumn De Wilde
X's John Doe
With the annual Music Masters series, the Rock & Roll Hall of Fame and Museum and Case Western Reserve University honor a Rock Hall inductee with a week of programming that culminates with a tribute concert.
This year's honoree will be Johnny Cash, who was inducted into the Rock & Roll Hall of Fame in 1992. The weeklong celebration will take place from October 17 to 22 and will include a tribute concert on Friday, October 21, at Playhouse Square's State Theatre.
In separate phone interviews, singer-songwriter Eilen Jewell, Social Distortion's Mike Ness and X's John Doe, all whom perform at the tribute concert, spoke about the Man in Black.
Do you recall the first time you would have come across Johnny Cash's music?
Jewell:
I do remember hearing him for the first time when I had just moved away for my first year of college. I must have been 18 or 19 when I heard him for the first time. At first, I thought I didn't really like him. Someone told me he was a country artist. At the time, I had this block against country music. I thought it was the mainstream stuff you hear everyday on the radio. I didn't give him a close listen the first time. At some point maybe a year later, I discovered Hank Williams. That opened the door to my love of country music. It wasn't too long after that that I accepted the greatness of Johnny Cash. It took awhile to get past that prejudice against country music.
Ness:
it would have definitely been as a kid. My parents had records around the house. My mom was more rock 'n' roll and my dad was more country, so I got exposed to both worlds. It just resonated with me. There are certain things that when you hear a certain tone, it just resonates with you. It becomes like a photograph in your memory. It's very subconscious.
Doe:
Oh, it was probably as a kid. Probably the first thing I heard was something like "A Boy Named Sue." Back then, you heard things out in the ether. I started studying him when I began listening to all of the Sun Records via the Blasters and [guitarist] Billy Zoom giving me my punk rock Sun Records education.
What did you think of that booming voice of his?
Jewell:
At first, I thought it was kind of strangely polished and operatic, which is really weird to me now to think that. I don't hear the over-polished quality of it at all anymore. Now, when I hear his voice it's almost like hearing a member of my own family. He's comfortable to me. His music and his voice have this comforting presence in my life, just like a beloved family member.
Ness:
His voice has a lot of body, and I liked that.
Doe:
I didn't like his voice initially but later I did because it was so unique and often out of tune. I know this is blasphemous but that's why I wasn't as fond of the Rick Rubin sessions because I could tell it had been massaged. Like Billy Lee Riley or Sonny Burgess, it was just wide open, but the songs he wrote and the songs he covered were just like the best of the best. Nothing was ever kitsch. He kept that for his personal life. He had a wicked adolescent sense of humor from everything that I know about him. I had a good friend who was close with him and so I got an inside view of what Johnny Cash was all about.
His lyrics are uniquely dark and introspective. Can you talk about that quality of his music?
Jewell:
That is a quality of his songwriting that I think I might have picked up along the way. I tend to do that in my songwriting. He's been an influence on a lot of songwriters since he first came on the scene. Personally, I tend to gravitate to songwriting on the darker side and more introspective and sometimes even goes overboard. I love that. That is something that I admire in a singer-songwriter. I think music has a way of letting us do that. If we want to, we can wallow and we can exaggerate in a way we can't in regularly speech. I like that quality of him and the way he carries the flag for the darker side to the point that he wore all black. That was his thing. He did it so well. He waved that flag better than anyone else could have.
Ness:
I liked the storytelling. That's been part of my songwriting later on. I unknowingly gravitated toward that, whether it was fiction or non-fiction. I think country music and blues in general have a lot of introspection. You're not always writing about the good times. With that music, also comes hardship and sin and struggle and conflict and redemption. It's just admitting faults. In a song like "I Walk the Line," he's really trying to do the right thing. Intentions and doing something are often two different things.
Doe:
You can't separate the sound from the music. It's all one piece. It's not like Dylan. The lyrics in all that music — the early stuff especially — they weren't that important. It was like watching a painting of some guy whose shirt is torn walking across a piece of open land. You don't know where he's going. Every song gives you a similar feeling of emptiness. It was entertainment, but it was the weirdest entertainment you could imagine.
What was the first Cash song you learned to play?
Jewell:
It's one I still play almost every show. It's not one he wrote but one he covered. It's a Charlie Rich song called "Thanks a Lot." I love the way Johnny Cash does it with that rhythm. I think that was the first one. I never get tired of it. Any song he covered is like a Johnny Cash song. He has a way of making a song his own.
Ness:
Probably "Folsom Prison Blues." I also remember Social Distortion covering Wanted Man in 1995. That was before I decided to do "Ring of Fire." That was a pivotal time for the band's career. I was getting off drugs and alcohol and putting my focus back into the band and the music. I realized how important roots music is and how it needs to be part of our sound. It was such a big part of me. I loved British and American punk. That part wasn't going to leave. I woke up one morning and it hit me like a train. I really immersed myself in black music and country music and American roots music. It was something I had grown up. I embraced it and it really opened the door to so many more things. My introduction to the blues was the Rolling Stones really. When I was nine years old, I didn't know who Muddy Waters was. I liked hearing that stuff around the house. I remember making a note to myself. Years later, I would go back to it and then really getting a deeper understanding and appreciation for it.
Doe:
"Big River." I liked the rhythm of the lyrics. I tried to steal some of those chord changes in the song we did called "Painting the Town Blue" which has a story about someone running away. His song was about chasing ours was about running away.
What do you have planned for your Music Masters Series performance?
Jewell:
I don't know in terms of which songs I'll sing. I do know that my longtime guitarist Jerry Miller will be with me, which is great. He's a big part of my sound and he can do that Johnny Cash sound really well too. Not that we'll imitate Johnny Cash. No one can really do him justice. I'll be accompanied by the house band, which is exciting and terrifying.
Ness:
I requested "Folsom Prison Blues" because it's a song I played in my sleep, and it's become a part of me. I'm really looking forward to it. It's going to be great. I remember when they were putting all these records out with Johnny Cash songs or this or that, and I never got asked to contribute. Who knows them better than I do? This is a nice thing. I really appreciate being asked to be part of this.
Doe:
We're crossing our fingers and praying. We don't have the opportunity to rehearse before we get there. We have chosen four songs which are "I Still Miss Someone" and "If I Were a Carpenter" and [guitarist] Billy Zoom may be singing "Teenage Queen" and either "I Guess Things Happen That Way" or "The One on the Right is On the Left." They're not songs we've played in the past. I did a version of "I Still Miss Someone" with the Sadies. I know that one pretty well.
What do you hope that people take away from the series?
Jewell:
I hope people come away with a greater appreciation for American roots music, maybe not even specifically for Johnny Cash. I think it would be great if people could learn about the history and roots of American music and come away with a sense of pride of where we came from musically and maybe a desire to check out some of those earlier artists that we might be in danger of glossing over. When I was coming up, people older than me were surprised that this girl from Idaho in her twenties would be interested in American roots music and early blues and country artists. I remember being surprised by that. Why wouldn't I care about it? Now, I'm on the other side wondering if anyone in their twenties cares about this stuff. I hope this might be the "aha" moment for someone who doesn't know much about roots music but will want to know who influenced Johnny Cash and who influenced the people who influenced the people who influenced Johnny Cash. I think that's the fun process.
Ness:
I can only speak for myself, but what I have already taken from his music, which is his contribution to rock 'n' roll and to country music. He was an innovator. Some of the guys in his band didn't really know what they were doing. I've written songs like that. They're beautiful accidents and probably not musically correct. You listen to those early Sun recordings, and they didn't know what they were doing. They were just going along with something, and they created a sound. The guy made a big mark on history. There wouldn't be a lot of acts if it weren't for him.
Doe:
I don't know. What could they take away that they shouldn't have already gotten? Anything like this is for the families and the general legacy of the person. It's a very small tip of the cap to someone who deserves it. The mistake that some people make is that if you're singing it that you have any real connection to the person. Johnny Cash is so far above anything I might achieve or aspire to. I'm glad the coach put me in.
21st Annual Music Masters: Johnny Cash, 7:30 p.m. Friday, Oct. 21, State Theatre, 1519 Euclid Ave., 216-241-6000. Tickets: $30-$100, rockhall.com.