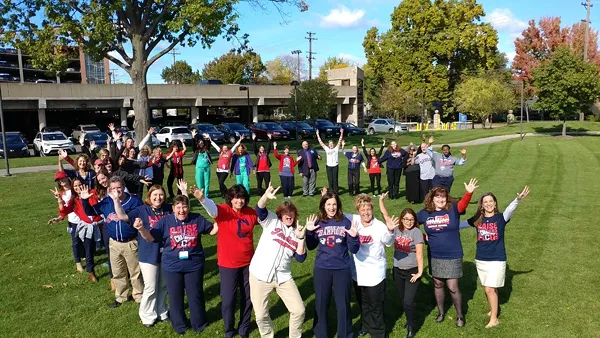 That's the MetroHealth crew, gathered on their quad Tuesday afternoon for a photo celebrating the Cleveland Indians in the World Series. Per the encouragement of MetroHealth, many staff members wore Tribe gear to work. (And MetroHealth was obviously not the only local employer who invited its staff to dress down Tuesday).
But MetroHealth sent a memo to employees specifically asking that they refrain from wearing "Chief-Wahoo branded" apparel.
"As an institution, we want to express our pride respectfully," the memo read, "without images that are counter to the inclusive, welcoming, affirming, and respectful culture we are trying to build at MetroHealth."
The above line was the only one bolded in the memo.
Appropriately enough, when the staff gathered on the quad to take a photo, they formed a "Block C," the team's purported primary logo.
Tuesday morning, MLB Commissioner Rob Manfred said on ESPN's Mike & Mike show that he and Indians' owner Larry Dolan
had agreed to "have a conversation"
about the future of the logo.
MetroHealth and others might encourage them, when and if they have that conversation, to consider the culture they want to build and promote among local baseball fans.
Here's the Spirit Day memo: