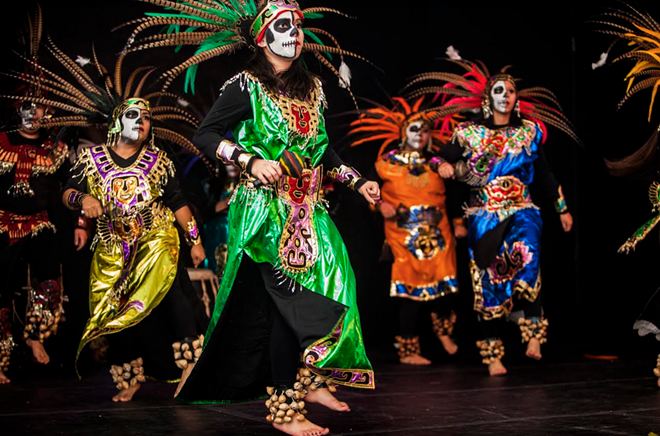 Since 2008, Cleveland's Dia de Muertos festivities have taken place in and around Cleveland Public Theatre's campus in the Gordon Square Arts District. Organized by Cleveland's Artista Latinos Unidos artist collective, the 12th annual Dia de Muertos takes place from 11 a.m. to 10 p.m. this Saturday, Oct. 29.
"We just kicked off our 2016-2017 season with Teatro Publico de Cleveland's original show, ¡Celebrando Three Years! as well as 44 Plays for 44 Presidents, two works that demonstrate Cleveland Public Theatre's commitment to providing a platform for artists and audience to connect with our individual and shared heritage, and to engage with the most critical issues of our time," says Cleveland Public Theatre's Executive Artistic Director Raymond Bobgan.. "We are proud to present Dia de Muertos inside of that mission, providing visitors a chance to celebrate life and reflect on those who have passed in a way that is thoughtful, beautiful and enriching."
The day's festivities include:
11 a.m. to 3 p.m.: Face painting & crafts workshops
2 to 3 p.m.: Dueto Maravilla (Romantic Mexican popular songs)
3:30 to 4:15 p.m.: "Skulls & Skeletons" Procession
3:30 to 4:30 p.m.: Mariachi Santa Cecilia
4:15 to 10 p.m.: Performances & DJ dance party
4:45 to 5:15 p.m.: Tepehuani Nelli – Mexican Flokloric Dancers
5:15 p.m.: Remarks by Councilman Matt Zone
5:30 to 6:00 p.m.: Julia de Burgos Cultural Arts Center Dancers
6 to 8 p.m.: Rice & Beans Latin Jazz Band
8 to 10 p.m.: DJ music
Additionally, the day features handmade altars by Luis Ituarte (main community altar installation), Kevin Williams, Robin Heinrich, The Students of the Cleveland High School for Digital Arts & Professor David Manuelle, Cara Romano, Stephanie Perez-Williams and Oliver App & Frankie Teuber.
Ituarte is working with Cleveland Public Theatre as part of the Cleveland Foundation's Creative Fusion program. Guests are encouraged to join in by "Weaving the Tapestry of our Ancestors," filling a large loom frame with ribbon messages in memory of those who have died. Organizers promise the pattern that will emerge once the loom is filled will reflect the "true 'public' of Cleveland Public Theatre…welcoming people of all cultures and backgrounds."
For more information, visit dedemuertosohio.com.
(Cleveland Public Theatre) 6415 Detroit Ave., 216-631-2727, cptonline.org