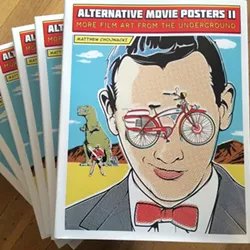 With only two monthly first Friday "Walk All Over Waterloo" events left in 2016, the neighborhood may have saved the best for last. Taking place from 5 to 10 p.m. this Friday, Nov. 4, November's WAOW features openings throughout the Waterloo Arts District.
Waterloo Arts showcases Cleveland-based cartoonist Derf's latest graphic novel, his ongoing The Baron of Prospect Ave. As part of his Creative Workforce Fellowship year, Derf is releasing the comic on his website for free. Original art from his current project, as well as his other graphic novels will be for sale.
"The Baron of Prospect" pays homage to the Prospect Avenue of Derf's youth, an area he would frequently visit on trips from Richfield in his teen years. The story and characters are fictional, but Derf has dutifully researched and collected reference material to create an accurate and familiar setting.
"I wanted to work with those characters again and I had this idea of setting a story in the funky Prospect Avenue, district of my youth, back when it was this incredible mix of old Jewish shopkeepers, hookers , street hustlers, and weirdoes of all kinds," Derf remembers fondly. "I used to make pilgrimages there, and the shops there were legendary, from Kay's Books to Record Rendezvous to the Colonial Arcade Luncheonette and the original Otto Moser's on E. 4th. The sidewalks were packed and the energy of the place made a huge impression on me. It was the first step in my journey from small town kid to urban animal. That Prospect is all gone now that it's has been cleaned up and sanitized and transformed into a restaurant district for visiting suburbanites. So I thought it would be fun to re-create it, much the same way I re-created The Bank punk club in downtown Akron in 'Punk Rock & Trailer Parks.' I enjoy resurrecting these lost places."
Read more about Derf and his current projects
here
.
Meanwhile, the Maria Neil Art Project presents Matthew Chojnacki's Alternative Movie Posters II in their main gallery space and a new exhibition by Pita Brooks in the Native Cleveland Annex. Chojnacki's exhibition at MNAP features more than 20 works by 15 artists. The show includes framed original art, loose prints and out of print posters. Copies of the books will be available in the gallery during the duration of the exhibition. Signed copies of the book will be available for $30 at MNAP, as well as local bookstores, on Chojnacki's website (MatthewChojnacki.com), Amazon (unsigned) and at various upcoming local events like Genghis Con (Nov. 27) and the Cleveland Bazaar (Dec. 10 to 11).
The exhibition includes many local artists, such as: John Sloboda, The Bubble Process, Brian Jasinski/Grey Cardigan and Chad Kimes / CHOD. Other artists include popular underground artists Gary Pullin, Jay Shaw, Topps artist Joe Simko, Darin Shock, T-Bone & Aljax, Chris Garofalo, Jeremy Wheeler, Anthony Petrie and Steve Dressler (who designed the covers for both Alternative Movie Posters volumes I and II).
"Volume one coincided with the initial emergence of the alternative art poster scene, and I believe may have been the first book released on the topic," says Chojnacki. "I remember repeatedly being asked at shows, 'oh - this isn't the original art - no thanks!' It was tough to find even 100 artists that were working on alternative film art, as the scene was still in its early stages."
In the years since Chojnacki began working on the first volume of the book, alternative movie posters have gone from underground to mainstream, with hundreds of artists now creating their own takes on their favorite films. Director Kevin Burke even created a documentary (currently on the film festival circuit) titled 24x36, the typical size of a film art print, about the growing art movement. It premiered at Fantastic Fest (Austin, TX) a month ago. Chojnacki served as Executive Producer on the film.
"Volume two is therefore packed with fully established alternative film artists, some with hundreds of pieces now available, as the scene has exploded in the last 2 to 3 years," says Chojnacki. "There were easily 500 artists to comb through for Volume Two (100 were selected, from 20 countries), and the art keeps getting more and more jaw dropping. At this point artists are trying to one-up each other with new techniques, including the use of scented, blacklight, and glow-in-the-dark inks, as well as printing on foil, steel and wood. Chris Garofalo, for example (who is in the Maria Neil show) created a poster for the classic horror flick The Burning (1981), and hand-burned the edges of each poster with an open flame. That's some dedication right there. In the show he contributed a John Waters-related piece."
Jerry Schmidt debuts a new series of intermedia collaborations with 11 local artists at his Waterloo 7 Studio & Gallery during a one night only exhibition at his studio. However, the sculptures will travel to the I-X Center for the Fabulous Food Show (Nov. 11 to 13).
"I came to a fork in the road one recent day and decided to expand my creativity by inviting 11 local artists to work on my 3-D art," Schmidt says. "Challenging myself to see my work from someone else's perspective while allowing the other artists to play with form, instead of flat, raised the bar for all of us. The results were beyond my expectations."
Artists include: Michelle Biondo, Joanna Ettorre, Lauren Voiers, Evie Zimmer, James March, Jenna Fournier, Matt Merchant, Patty McPhillips, Kristen Kantounatakis, Bob McNulty and Joann Rencz.
Just a few steps away, Praxis Fiber Workshop hosts Lindsay Cashews' #Glitztrash. The Detroit-based, Cleveland native performance artist and designer graduated from the Cleveland Institute of Art in 2013 with a double major in Fiber/Material Studies and Contemporary Drawing. Her work has been featured in Chicago, Detroit and New York Fashion Week. Free. At Praxis' opening, live models will be wearing her work in the gallery.
"We are so excited to welcome back CIA grad Lindsay Cashews for a solo exhibition in the Praxis Gallery," says Jessica Pinsky, Executive Director of Praxis. "Lindsey's raw energy combined with her intricate use of materials, performers draped in garment and costume, interacting with video and wall installations will create a memorable experience for all."
(Waterloo Arts) 15605 Waterloo Rd., 216-692-9500, waterlooarts.org.
(Maria Neil Art Project) 15813 Waterloo Rd., 216-481-7722, marianeilartproject.com.
(Waterloo 7 Studio & Gallery) 15315 Waterloo Rd.
(Praxis Fiber Workshop) 15301 Waterloo Rd, praxisfiberworkshop.org.