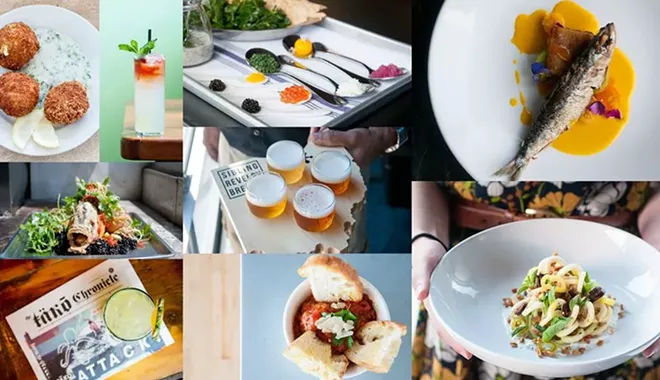 Today, the respected restaurant industry magazine
StarChefs
announced its winners for the Rising Stars Awards of the "Rust Belt" – their term – a region that includes the markets of Cleveland, Detroit and Pittsburgh. The awards "celebrate up-and-coming chefs and culinary professionals, who represent the vanguard of the contemporary American dining scene."
Scene Magazine is the first to reveal the winners.
The online magazine shines a spotlight on four cities – or in our case, region – per year. Editors, writers and photographers visited Cleveland, Detroit and Pittsburgh this past spring, when they tasted the works of 130 chefs, pastry chefs, bartenders, sommeliers, brewers, coffee roasters and other culinary artisans. The results of those examinations and deliberations follows.
"So many Rust Belt chefs left the region to train and work in Chicago, New York, and San Francisco, but at the end of the day, they came back because they believed in the potential of their hometowns," Will Blunt, managing editor of StarChefs, explains.
"The Rust Belt's industrial footprint left no clearly defined regional cuisine, making way for a diverse, vibrant, and idiosyncratic restaurant scene—one that's open to a whole sway of immigrant influences," adds editor Caroline
Hatchett. "We ate vegan Eastern European, Alpine Italian, and Vietnamese food, along with fish and grits, fried bologna and waffles, and chicken-liver spiked oatmeal. It's a region marked by individualism and unencumbered by trends."
Local winners like Brett Sawyer from The Plum and Will Hollingsworth from Spotted Owl are understandably thrilled and honored to have been selected.
"We were insanely excited to even be considered for StarChefs," says Sawyer. "To actually have been chosen among all of the great restaurants and talented chefs is an honor. Something that we hoped for but truly did not expect."
Hollingsworth adds, "Taking this step onto the national stage is a vindication for the incredibly hard work of my team and for our goal of putting out the best drinks between Chicago and New York, in a bar where people can still feel comfortable ordering a shot and a beer. For me, it's humbling to be on the same list as the other bartenders who have won this award in the past — they are some of the people I respect most in this industry. And for Cleveland, it's just one more way we can say we're better than Pittsburgh."
The following Rising Stars Award Winners will be honored at a gala at the Westin Cleveland on Wednesday December 7, 2016 where the 21 winners will showcase their food and specialty products with beverage pairings and cocktails by the winning sommeliers and bartenders. General admission to the gala is $85 per person. VIP tickets can be secured for $125 and include a private reception with cava and caviar. Tickets for the event can be
purchased here
.
StarChefs 2016 Rust Belt Rising Stars (and their featured dishes)
Chefs
Jamilka Borges, Spoon, Pittsburgh
Featured dish: Lamb Pickle, Crème Fraîche, Blood Orange Vinegar, Sherry Preserves, Pea Tendrils, Amaranth, and Mint
Brad Greenhill, Katoi, Detroit
Featured dish: Wok-charred Brassicas, Miso, Tahini, Pickled Chiles, Crispy Rice, and Mint
Nick Janutol, Forest Grill, Detroit
Featured dish: Black Rice, Tomato, Cobia, and Toasted Nori
David Kocab, Trentina, Cleveland
Featured dish: Mugolio-glazed Carrots and Turnips, Genmai and Sugar-packed Spruce Tips
Kate Lasky & Tomasz Skowronski, Apteka, Pittsburgh
Featured dish: Sauerkraut-Mushroom Pierogi, Pickled Beets, and Mustard-Yogurt Sauce
James Rigato, Mabel Gray, Detroit
Featured dish: Chicken and Duck Wings, Habanero Jam, Orange, Shishito Peppers and Pickled Mustard Seeds
Brett Sawyer, Plum Cafe & Kitchen, Cleveland
Featured dish: Yellow Corn Grit Croquettes, Smoked Shrimp Rillettes, Fermented Peanuts, and Micro Okra
John Vermiglio, Grey Ghost, Detroit
Featured dish: General Tso's Chicken Sausage, Sesame, and Scallion
Community
Ben Hall, Russell Street Deli, Detroit
Featured dish: Smoked Cherokee Purple Tomato Bisque
Concept
Chad Townsend, Millie's Homemade Ice Cream, Pittsburgh
Featured dish: Trio of Ice Creams
Pastry Chef
Lisa Ludwinski, Sister Pie, Detroit
Featured dish: Assortment of Cookies featuring Chocolate Buckwheat
Artisans
Neil Blazin, Driftwood Oven, Pittsburgh
Featured dish: Wood-fired Artisan Bread
Reed Jaskula, Platform Beer Co., Cleveland
Featured dish: Black Eagle Gratzer
Adam Lambert, Ohio City Provisions, Cleveland
Featured dish: Polish Boy: Red Wattle and Mangalitsa Sausage, Barbecue Sauce, French Fries, and Coleslaw
Sommeliers
Dominic Fiore, Bar Marco, Pittsburgh
Shaun Page, Wolfgang Puck Grille, Detroit
Pairings with winners' dishes
Bartenders
Will Hollingsworth, Spotted Owl, Cleveland
Featured drink: And Fire Green As Grass: Bombay Sapphire East Gin, Green Chartreuse, St. Elizabeth Allspice Dram and Smith & Cross Rum
Joe Robinson, Standby, Detroit
Featured drink: Angelic Conversation: Campari, Aperol, Ransom Dry Vermouth, Tangerine Sherbet, Lemon and Egg White
Restaurateurs
Dave Kwiatkowski, Detroit Optimist Society, Detroit
Featured drink: Cocktail featuring Angostura Rum
Jonathon Sawyer, Team Sawyer, Cleveland
Featured dish: Signature Plate from Greenhouse Tavern
Host Chef
Vishwatej Nath, Urban Farmer at the Westin Cleveland
Featured dish: Scotch Egg: Bison, Quail Egg, Winter Squash Agrodolce, Goat Milk Yogurt, and Micro Herbs