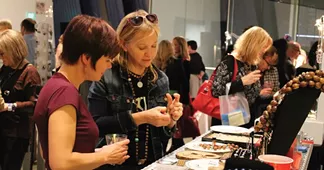 This year, MOCA hosts its 12th annual holiday artisan market, featuring original work from local, regional and national artists, as well as innovators in design. Formerly known as Artscape for the past 11 years, this year's event is titled Spectacle. With a carefully curated selection of artisans and wares, this year's event continues the tradition of hosting a diverse variety of unique gifts.
"Spectacle is one way we support Cleveland's artisans," says Desiree Kellers, Spectacle event organizer. "This is our 12th year and we're excited to introduce many new vendors as we've broadened the selection of products to include home accessories and apparel as well as the beautiful glassware, jewelry, and leather goods event attendees have grown accustomed to finding here. At MOCA, the artists have the perfect environment to showcase their collections. The atmosphere is friendly and intimate, so our visitors have the ability to meet and talk to artisans about their craft and collections."
Participating vendors include: Deborah Woolfork, Ellen Schmidt Jewelry, El-Red Jewelry, Entwine, Erickas Originals, Four Fish Ink, Freddy Hill, Gai Russo, Images in Bloom, JHOS, Krista Tomorwitz, Lime Green Rhinestones, MG Falk Glass Jewelry, Michelle Pajak-Reynolds, Ninna Nanna, Pamela Pastoric, Pattern Play Glass, Peggy Wertheim, Pierce Jewelry, Red I Jewelry, Sarah Krisher, Shayna Roth Pentecost, The Hunted and Tidal Cool.
Spectacle opens with an Early Shopping Party from 5 to 9 p.m. this Friday, Nov. 18, and continues from 11 a.m. to 5 p.m. Saturday, Nov. 19. Friday's preview party is $10 for non-members and free for MOCA Cleveland members. Saturday is free and open to the public (there's an admission fee for gallery exhibitions). Held the weekend before Thanksgiving, the event offers shoppers an opportunity to purchase gifts before the holiday rush.
"The weekend before Thanksgiving is a great time to find holiday gifts," Kellers says. "We encourage you to bring your friends to the early shopping preview and party on Friday night. We will offer food, a bar and we'll be giving away prizes that include special selections from our vendors, studio experiences, certificates for classes with our artisans and a $100 gift card to use at the MOCA Store, a great source for cool, contemporary gifts."
(MOCA Cleveland) 11400 Euclid Ave., 216-421-8671, mocacleveland.org