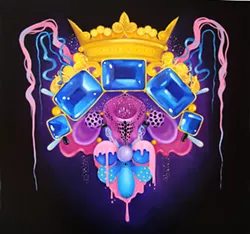 For more than a decade, Cleveland-based painter Arabella Proffer has been known for her stunning and surreal figurative painting. However, her new exhibition at Hedge Gallery marks the first time that her new direction of abstract, biomorphic imagery has been collected in one solo show. This ongoing series brings together Proffer's interests in disease, microbiology, botany, monsters, space and the evolution of cells to explore themes of medicine, DNA, organisms and hybrids. Inspired by her own experience, Proffer was diagnosed with a rare cancer in 2010, and more recently, she has battled a recurring illness while continuing to paint during her recovery.
"This work came about while I had developed cancer and didn't know it back in 2010," Proffer says. "The reception to it was amazing with pieces in group shows around the country here and there, so I kept on with it. Finally coming to terms with using something other than people to convey human emotion and taking a break from always doing figurative work. They come from a place of abstraction with very little planning so I just let the paint do the work for me rather than trying to drive it a certain way. It's been very interesting hearing other people's interpretations since they aren't as literal as my previous work."
Thanks to a grant from the Ohio Arts Council, Proffer focused on her new direction, creating paintings interpreting the visual representation of her illness and the interior of her body on a microscopic level.
"This was the second time I've worked on a solo show while recovering from surgery and being sick without knowing it; sometimes they are kind of like creatures or organisms reflected back at me of what's going on with my own physiology," Proffer says. "People always say they are amazed I can create a solo show while going through the things I have, but if I didn't paint I'd be a typical invalid wallowing in my own misery and pity — that's not how I operate. I was so grateful to finally make this a cohesive show thanks to the Ohio Arts Council. My artist friends all think this is going to be my true work, and I hope it's a good introduction."
Biomorphic Garden Party opens in Hedge's annex gallery in Suite 215 during Third Friday from 5 to 9 p.m., Nov. 18. Of course, there's plenty more to see throughout the four floors of 78th Street Studios during Third Friday.
(78th Street Studios) 1300 W. 78th St., 330-819-7280, 78thstreetstudios.com