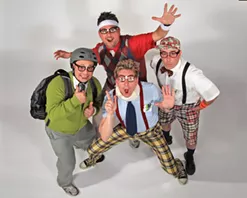 The '80s are known for New Wave music and arcade video games like Pac-Man and Donkey Kong. Quality musical acts such as Michael Jackson, Madonna, Prince, the Police, Guns N' Roses, R.E.M. and U2 emerged during the period as well.
Hard Rock Rocksino Northfield Park
aims to celebrate all things '80s with its Big '80s party slated to take place on New Year's Eve. The tribute act the Spazmatics [pictured] will throw a "nerdy" New Wave Dance Party, and there will be screenings of '80s music videos. Patrons can also play classic arcade games and participate in a Rubik's Cube contest.
The party will kick into gear at 9 p.m. Tickets, which go on sale tomorrow, cost $35 in advance, $50 at the door.