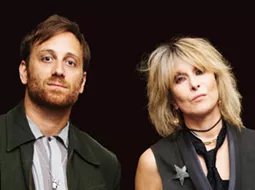 Big Hassle/Jill Furmanovsky
Initially, the Pretenders singer Chrissie Hynde says she admired Black Keys/The Arcs singer-guitarist Dan Auerbach "from afar." When she made a list of people she'd like to produce a new Pretenders' album, he was at the top. They both hail from Akron.
"I've seen his band over the years a couple of times," she says in a recent phone interview. "I was a fan of his music. I didn't research him as a producer so much. I just like his vibe. That's all I go by when I work with people initially. I told my manager that he was number one on my wish list. He got in touch with his manager and we agreed to go in."
As the process began, she started sending Auerbach some songs she had written.
"He would say 'yeah' or 'nay,'" she says. "There was no game plan. You just start recording and see what happens.
The new album's title track celebrates being alone. It stemmed from a conversation that Hynde and Auerbach had during the initial recording sessions.
"When I first met [Auerbach] and the guys, they were talking about stuff they did over the weekend with their wives and kids," she says. "I live alone and go to movies alone. A lot of my time is spent alone. I don't necessarily like that all the time. When I was talking about it, Dan pointed at me and told me to write a song about it."
As she was waiting for a cab to leave on the last day of the session, she barked out the lyrics. The resulting song comes off as a defiant rock tune that features snarling guitars and spoken word segments.
"We've heard thousands of songs about the trials of being lonely," Hynde explains. "I haven't heard any songs about being alone in a positive way. A lot of people who are married have told me they wished they had more time alone. I would add that I'm not talking about the epidemic of loneliness or people who have no one. I have a band, so I'm pretty happy. I can afford to have some fun with the concept. Some people can't afford that. I don't mind doing things on my own. I would rather have someone to do most things with. If I don't, that's the way it is."
The Pretenders' first new album since 2008's
Break Up the Concrete
,
Alone
features a top-notch studio band that includes bassist Dave Roe (Johnny Cash, Loretta Lynn, Sturgill Simpson), pedal steel guitarist Russ Pahl (Blake Shelton), guitarist Kenny Vaughan (Lana Del Rey), keyboardist Leon Michels and drummer Richard Swift (the Arcs). "Gotta Wait" has a Black Keys-like garage blues vibe to it, and the single "Holy Commotion" even sounds like Hynde singing one of the Arcs' dreamy tunes.
"[Auerbach] lives in Nashville, and that's a team of musicians he works with a lot," says Hynde. "The bass player had been Johnny Cash's bass player, and the guitar player Kenny Vaughan goes out with Marty Stuart a lot. They're in Nashville, so that makes sense. But every musician I ever met really wants to play in a rock band, so they were all really excited to do this."
Atmospheric tunes like "Never Be Together" and "Let's Get Lost" show off the band's softer side. While the album suggests the band's sound has shifted, Hynde says the new album doesn't depart from previous efforts.
"I like to think our first album was similar," she says. "It had ballads and quiet moments and a lot of rockers and punky things. I haven't been able to get it as right as I would like to every time. No one can. I feel great about this album, I must say. It's not a formula, but I haven't changed. I still like the same things and this form of expression. You just move on with your life and talk about what's going on at the time, but the band formula hasn't changed very much for me."
She also thinks the time is right for a rock 'n' roll renaissance.
"I think bands will come back," she says. "I think we have a nice climate for bands to come back though I wouldn't have said that a few years ago. I think we skipped a few generations that were wasted on reality television, which they watched with their parents. They have a lot to rebel against. I sense that 16-year-olds will start picking up guitars again and getting in bands because it's still the best thing. It's not as fun to sit on the internet as it is to get into someone's basement and make a noise. There's a form of self-expression there that's extremely attractive to any teenager. I've never met a teenager who didn't want to be in a rock band."
Hynde caught a bit of flack for a segment in her recent memoir,
Reckless: My Life as a Pretender
. Some critics of the book have said that she suggests women are sometimes to blame for being sexually assaulted. She brushes off the criticism.
"I don't read any of my press or look through anything ever," she says. "It didn't bother me at all. I had some alarmed emails from friends asking if I was alright. The woman who wrote the article that some of these misquotes were taken from wrote to me and said, 'Oh my God.' I told her not to worry because I don't read anything about me. She was upset about it. These things were taken out of context, and that's what people latch onto. I'm aware of what went on now, but at the time I just didn't care. It wasn't in my consciousness. I would add that the book I wrote was the light version of my story. I didn't get dark. I didn't go into any real madness. I didn't want to hurt anyone's families or address anything that was really painful. I kept it the light version of my story. I don't think it hurt anyone."
Hynde says she doesn't necessarily get a thrill out of playing to a hometown crowd in Akron, but she's excited generally at how the current tour, which finds her playing arenas with Stevie Nicks and then headlining smaller theaters on her own, has worked out.
"You know, I feel the same wherever I play," she says. "We're on stage and in the band doing what we do. I get off within the band experience and hope everyone else likes it. In the past, I felt like hometown gigs are ones where you're observed by people who know you. That makes it feel like more pressure. I don't feel that anymore. I do the show and hope we do a good show. It's good to see friends, but we have to drive to the next gig. Stevie takes time off, but we do on our own shows on the days off, and it's fantastic. With her, it's a different experience. I don't like being in big places, but the arenas are very personable. I really enjoy those shows. And we can do our own shows. It's the perfect tour."

The Pretenders, 8 p.m. Saturday, Nov. 26, E.J. Thomas Hall, 198 Hill St, Akron, 330-972-7570. Tickets: $37.50-$55, uaevents.com.