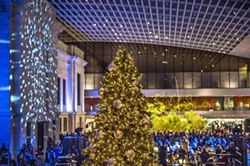 Photograph by Rob Muller, courtesy of the Cleveland Museum of Art.
This month's MIX at the Cleveland Museum of Art is a special one, as the museum begins to look forward to its second century. As the museum celebrates its final MIX event of its centennial year, MIX: Next doubles as a special preview of the CMA's latest exhibition, Albert Oehlen's
Woods Near Oehle
. The exhibition is the largest and most extensive collection of Oehlen's work, dating back more than 30 years. The exhibition includes the artist's most recent work, including a new multimedia installation, debuting in Cleveland.
Celebrate the end of the museum's first century with music, drinks, and more, as well as another chance to see Kara Walker's powerful new work,
The Ecstasy of St. Kara
. Tickets are $8 in advance or $10 at the door — or free for CMA members.
"MIX: Next is our last public event focused on the yearlong centennial celebration," says Aaron Petersal, director of visitor experience at the CMA. "At this month's MIX, we plan to look forward to our exciting new century and there is no better way to do so than a special sneak peek at our upcoming special contemporary exhibition
Albert Oehlen: Woods New Oehle
. Stop by, see a groundbreaking exhibition, immerse yourself in a specially lit atrium, and dance with Northeast Ohio's very best. Don't miss this one!"
Later in the weekend, the 23rd annual Holiday Circlefest takes place in University Circle's Wade Oval. From 1 to 5:30 p.m. on Sunday, Dec. 4, the museums, gardens, galleries, churches and schools open their doors free of charge, offering a variety of activities, music, food, shopping and holiday fun. Guests can also enjoy horse-drawn carriage rides, live music from local musicians, craft making, historic displays of holiday toys, live animals, storytelling, a competition for the city's best gingerbread house and more.
Stop by the Cleveland Museum of Natural History to make a star decoration and gift box in the Smead Discovery Center and warm up with a show in the Shafran Planetarium for $5. Next door, The Cleveland Museum of Art will be open as well with activities and entertainment. The museum's annual Winter Lights Festival kicks off with lantern displays inside the museum, as well as the Environment of Lights installation on Wade Oval, created by local artists under the guidance of community arts director Robin VanLear. The evening culminates with the Cleveland Museum of Art's Winter Lights Lantern Procession, beginning at 5:30 p.m. Of course, the Rink at Wade Oval will be open from noon to 7 p.m. (weather permitting).
"Each year as the annual Lantern Procession is about to begin I stand in the crowd at the museum's north door and share with those around me the anticipatory awe as we wait for the illuminated dancers to emerge from the open doors and into the darkened night," VanLear says. "Always there is a catch in my throat as the myriad of twinkling lights dance in the night creating magic. This year the procession promises to hold even greater magic as the story behind the procession has deepened. I hope all who can will join us for 'Advent of the Yule Queen - Night Heralds the Dawn.' It should be a musical and visual treat for all ages."
(Cleveland Museum of Art) 11150 East Blvd., 216-421-7340, clevelandart.org
(University Circle) 10820 East Blvd., 216-707-4640, universitycircle.org