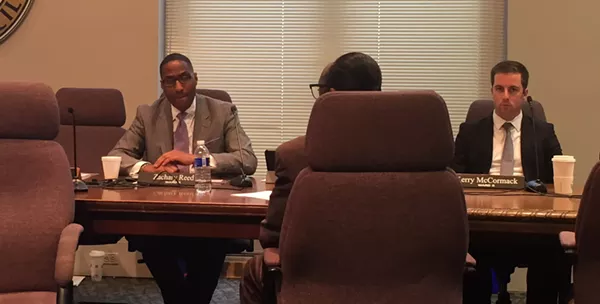 Sam Allard / Scene
Councilmen Zack Reed and Kerry McCormack listen to public comment.
It was 10:30 a.m. and Joe Calabrese had a plane to catch. The Greater Cleveland Regional Transit Authority (RTA) CEO had withstood a 90-minute onslaught of questions and comments from Cleveland City Council on the subject of buses on/near/through/athwart Public Square, and the battered transit executive was no doubt relieved to escape to the nation's capital.
The councilpeople were steamed. This Transportation Committee hearing had been arranged in the harried aftermath of the announcement by Mayor Frank Jackson and Calabrese, two weeks ago, that the 600-foot strip of Superior Avenue through Public Square would remain closed to buses permanently. The announcement came at an evening press conference with very little warning to the media and no warning at all to the city's legislative branch (council), who felt variously "concerned," "insulted," and "ashamed" by the Mayor's secretive decision-making process. The outspoken Councilman Zack Reed likened the decision to that of a dictator. "It's like Fidel Castro," he told
Scene
after today's meeting.
The tone throughout the morning's proceedings was one of consternation. Comments by both council members and the public were edgy, perturbed, alarmed. It's not uncommon for council to lament the lack of communication between the Mayor's office and themselves, but rarely have individual council members been so vocally opposed to the actions of Jackson.
There was even talk, by meeting's end, of finding ways to overrule Jackson's decision, or else complicate it. Though Committee Chair Marty Keane advised that there was no legislative action to be taken immediately — this morning's meeting was merely to send a message, he said — others suggested the possibility of legislation down the road: a refusal to vacate the right-of-way on Superior, for instance. Reed said council should not let this go away, and said he would support legislation to block the administration from removing the Square's bus shelters or installing bollards on Superior.
Conspiracy theories voiced in private by jilted riders and locals who've seen versions of this script play out before were voiced in public by council members: Kerry McCormack, in whose Ward Public Square resides, wondered whether or not this had been the plan all along, to secure funding for a public space and then pull the rug out from transit riders. Zack Reed accused Jackson of collusion with downtown property owners and Forest City execs who view with contempt, he suggested, the "low-lifes" and "thugs" who ride the buses. (Reed, to dramatize his remarks, read comments from Cleveland.com.)
To make matters worse, when Joe Calabrese departed for his flight, so too did almost every representative from the Jackson administration. Chief of Staff Ken Silliman, Safety Director Michael McGrath, Development Chief Ed Rybka and reps from the division of traffic and engineering processed out of City Hall Rm. 217, where council meets. The crammed and baffled public, who attended (in some cases) in the hopes of addressing the decision-makers directly, muttered disdainful "wows" while council members inquired what the hell was going on. Only Freddy Collier, the city's director of planning, remained for a portion of the public comments that followed.
The hearing had gotten off to shall we say a bumpy start: Silliman literally read the press release produced by the city after the announcement —
the city and RTA will work cooperatively to mitigate the operational impact
, blah blah blah — and then James Muhic, the Safety Department's traffic commissioner, conveyed the city's safety concerns. Among other things, the city claimed to fear that if Superior remained open to buses, unsupervised children would flee from their parents into oncoming bus traffic; confused and drunken drivers would drive onto Superior and wreak havoc — downtown Cleveland has become a multi-pronged magnet for weekend revelers, recall, and alcohol simply must be reckoned with; "lone-wolf terrorists" would use Superior to attack gatherings on the square by car, the splash park for example. Think of the Children! Think of the Ohio State tragedy! Both councilmen Keane and McCormack hastened to remark that terrorism had "nothing to do" with buses on Public Square.
Councilmembers took turns decrying Jackson's backroom maneuverings and called the city's safety concerns "laughable" (Brian Kazy). McCormack spoke of his experience with transit in Madrid and said that vehicular interaction is a condition of urban parks. Jeff Johnson wanted Calabrese to talk about ridership demographics — working class people, women and minorities need to be put on the table, he said — and many spoke of the disquiet and resentment among their constituents. This was all in direct opposition to the mysterious "overwhelming support" that Jackson cited as the second-most-critical reason (behind safety) for his decision.
In public comment, riders voiced their displeasure with the decision, testifying to the delays caused by the re-routing around the square. (Robert Mavec, the city's commissioner of traffic engineering, had suggested that the delay was only 2 minutes or 2:30 max, but riders spoke of delays as long as 10 minutes.)
The RTA Citizen Advisory Board presented a letter "vigorously opposing" the closing of Superior Avenue. Amalgamated Transit Union Local 268 President Ron Jackson spoke on behalf of drivers, who opposed the closure as well. UH Bikes General Manager Alex Baca called the decision a "gross negligence of transparency" by Mayor Jackson and reminded council that "anything that holds RTA back also holds bike share back." Nora Hoxha, from the Downtown Cleveland Residents' Association, spoke of an ongoing survey. About 250 people had responded, she said, and results appeared to be mixed. Akshai Singh, representing Clevelanders for Public Transit, read a letter outlining that group's opposition:
"We want to know how the administration, without taking public input, decided to renege on the guarantees of the Group Plan Commission, RTA, and public input process to close Public Square to buses," he read from the letter. "We'd like to know how the prior $120,000 traffic study (from a non-biased independent firm) has been considered, as explanations have been highly inadequate. We'd like to know why previous agreements with FTA to create a transit zone with dedicated lanes were disregarded... We'd like to know who in the administration rode public transportation during this study during peak rush hour times, which routes, and when they rode public transportation, if ever, around the square with riders."
Councilman Brian Freaking Cummins
Perhaps the most powerful comments of all came from Councilman Brian Cummins. After the announcement two weeks ago, he'd expressed dismay that council hadn't been informed. He crystallized his opposition on a number of fronts this morning, taking aim at the Mayor's waffling, and the administration's total disregard for the original designs of the Square.
Apart from the transparency issues, Cummins regarded as preposterous the Mayor's having made the decision without
ever
having opened Superior. How can we know it's a safety hazard if we haven't even tested it? He was also "incredulous" that the Square's alleged popularity was being used as evidence that Superior must remain closed.
"What has changed?" He shouted. "So there's a lot of people attracted to the Square? I'm pretty sure I remember the designer saying that that's what the hope was..."
Cummins also cautioned the administration to remember that $12 million wasn't the only money at stake.
"It's not only about [$12 million] that might need to be repaid to the FTA," he said. "I've confirmed with RTA that over $78 million has been awarded to them through Federal Transportation dollars. Any Federal transit awards are at risk in the future if we continue to be at breach with the FTA. We're trying to minimize the issues that we're discussing here!"