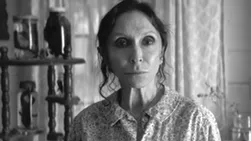 The violence comes fast and furious in
The Eyes of My Mother
, a new horror flick from first-time writer-director Nicolas Pesce.
Beautifully shot in black and white, the movie, which opens on Friday at the Capitol Theatre, has an art house feel to it despite its grotesque subject matter.
But while visually stunning, it ultimately indulges too much in shock tactics and delivers a dissatisfying conclusion that doesn't resolve just what the movie means.
The film centers on Francesca (Olivia Boand), a young girl who knows how to perform surgery thanks to her Portuguese mother (Diana Agostini), a former eye surgeon who teaches her how to remove the eyeballs of farm animals.
Francesca puts her skills to good use when Charlie (Will Brill), a shifty traveling salesman, shows up at the house one day and kills Francesca's mother. Francesca and her father capture the squirrel-y fellow and lock him in the barn, chaining him up so he can't escape and providing him with the bare minimum in terms of shelter and food.
The guy clearly messed with the wrong family.
Flash-forward a few years and Francesca has blossomed into an attractive young woman. But all is not right; she continues to keep Charlie under lock and key in the barn and still bathes her father even though he's dead. She keeps acquiring new prisoners too and picks up Kimiko (Clara Wong), a Japanese student, at a bar and Lucy (Flora Diaz), a mother with a baby son whom she meets while hitchhiking. And yes, we have to watch her gouge their eyes out as well.
The predictably tragic ending leaves many unanswered questions as we never really find out what the hell drives Francesca to kill. Pesce has said that he thinks of
The Eyes of My Mother
as a tribute to old school horror flicks. That might be true, but the vintage horror movies often had a message. You'd be hard-pressed to figure out the point of this film.