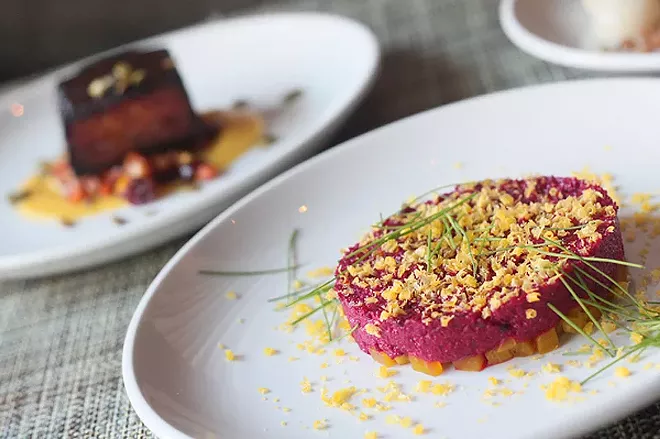 The Black Pig, which BW students ranked in the top ten
When Professor David Krueger heard an NPR story about
Tampa Bay Times
food writer Laura Reiley's expose uncovering widespread deception among so-called farm-to-table restaurants, he knew the issue would be an ideal one for his students to tackle as the final project of the Green Business Class he teaches at Baldwin Wallace University.
Though the students were captivated by the issue of deceptive farm-to-table claims – or "greenwashing" as the practice is called – they did not set out to draft a takedown of the local restaurant scene.
"Our goal was not to uncover and expose fraudulent offenders or green washers, but to identify Northeast Ohio's top performer restaurants, especially with respect to the credibility of their farm-to-table claims as well as other sustainability practices," explains student Alexandria Eging.
The findings of the students' efforts were unveiled this week during a classroom session that I attended. Titled "Northeast Ohio Farm to Table Restaurant Analysis," the examination shined a light both on some of the best practitioners in the field but also some of the challenges involved in uncovering the truth.
The students began by compiling a list of restaurants to include in the study. They did this by identifying as many restaurants within the Greater Cleveland area that made farm-to-table claims on their menus and websites. Starting with a final list of 37 restaurants, the students set about their analysis.
The initial step was an unannounced visit to the restaurant to collect current menus, daily special info, and attempt to make contact with a chef, manager or owner to reach out to later.
When those people were later reached, the students attempted to fact check information they had gleaned from the menus and websites by asking for names of local suppliers and farms.
The final step was to call those farms and producers that the restaurants claimed to purchase from to try to verify supply chain relationships existed.
"Some restaurants we encountered were very open and willing when asked to give information," the report states. "Many staff members were very knowledgeable regarding their restaurant's aspirations for local, farm to table, and sustainability. Others, however, were hesitant either due to inability to answer questions or being unsure if they were allowed to give out such information."
A scorecard was created for each restaurant that awarded points for things like transparency and disclosure, while subtracting points for deception and lack of communication. Points were allotted for sustainable practices like onsite butchering, baking, brewing, composting and recycling. Also, the higher the volume of locally sourced items, the higher the score.
"When we initially created our scorecard, we had points based on the percentage of food the restaurant claimed was locally sourced," explains Dr. Krueger. "Initially, we thought the top category would 25 percent or more. We quickly discovered that among the top restaurants, 25 percent was nothing."
Krueger admits that terms like "volume" and "percentage" do not refer to anything as precise as gross weight or revenue derived from local foods, but rather a more general reference to the number of items on the menu.
The top-ten performing restaurants, in order, were Great Lakes Brewing, Treehugger's Cafe, Butcher and the Brewer, Spice, Flying Fig, Toast, Urban Farmer, Fat Cats, Black Pig and Forage. Willeyville, the students noted, would have been among the top ten but closed before publication.
The students also noted that poor communication, personally while they were present in the restaurant, in-house between employees that they spoke to and their bosses, and down the line in terms of follow-up, ended up disqualifying a large number of restaurants that likely would have made it into the top ten. Many well regarded leaders in the field, they say, simply were nonresponsive by not returning multiple phone calls and emails.
The complete list of restaurants that the students began with included Amp 150, Bar Centro, Bistro 185, Blue Door Café, Bruno's Ristorante, Butcher & Brewer, Cabin Club Steakhouse, Chowder House Café, Cibreo Italian Kitchen, Cork & Cleaver, Crop, Dante Next Door, Fat Cats, Flying Fig, Forage Public House, Great Lakes Brewing Company, Greenhouse Tavern, La Campagna, Lucky's Café, Luxe, Morton's, Noodlecat, Pura Vida, Soho Kitchen, Spice, Table 45, The Black Pig, The Rail, The Root Café, Toast, Townhall, Treehuggers Café, Trentina, Urban Farmer Steakhouse, Vero Pizza, Washington Place, and Willeyville.
Among the top ten restaurants, the students noticed an observable trend. Each has "a highly knowledgeable internal champion – someone who is really passionate about farm-to-table, who in turn ingrains this into the employees."
The report concluded that Northeast Ohio is blessed with an extensive and growing supply chain of local producers, especially with respect to animal proteins. But a number of challenges remain, such as the underdeveloped infrastructures for sustainable practices like recycling and composting or the re-purposing of food waste.
"Because we started in Portland, we established and perpetuated an ethos of farm-to-table and sustainability," says Andy Hata, GM at top-ten placing Urban Farmer. "We come from a city where the infrastructure for recycling, composting and sustainability exists. It's all well and great when restaurants like ourselves try and do the right thing, but without the infrastructure it's hard."
Hata – and the students of the Green Business Class – implore us to challenge our civic leaders to institute better, greener practices.
Special thanks to all of the students in the class: Alexandra Eging, Jon Mays, Taylor Kozak, Sarah Doppelheuer and David Tatarowicz.
Look for a companion segment to air on WVIZ in the coming days.
Here's a copy of the final report
.