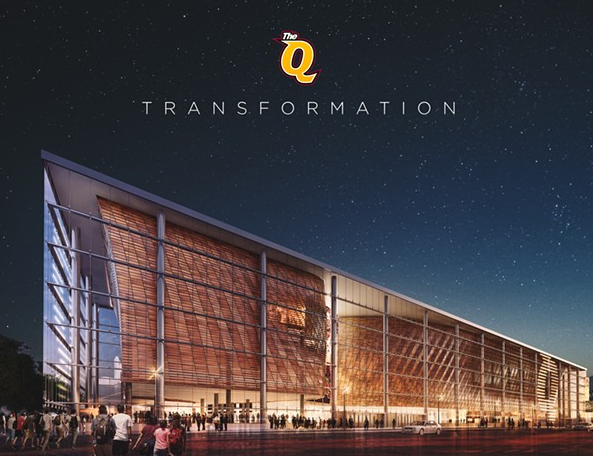 As the Cavs and their partners — Cuyahoga County, the city of Cleveland, Cleveland.com — rolled out their supporting arguments for spending some $70 million in public money (plus interest) on renovating Quicken Loans Arena, they repeated a number of disingenuous claims and stats.
Among those was this number: $245 million. That's how much direct spending was tied to the Q and arena-related activities in 2016, according to a study by consulting firm Conventions, Sports & Leisure International that was commissioned and paid for by the Cavs.
Big number, right? Especially when you have it repeated, in error, by outlets with headlines like,
"The Q averages 2 million guests, $245 million in direct spending a year."
Not only is it simply a number for 2016 only, not an average, it includes all financial impacts tied to the RNC, which Cleveland will not be hosting again. And beyond that, it includes money that would have been spent in Northeast Ohio anyway.
Jay Miller at Crain's Cleveland
took the extra step the Cavs' partners at Cleveland.com didn't by looking deeper into the study and — gasp — asking a question or two.
Asked in an email exchange with Crain's to break down that number, CSL president Bill Rhoda said the figure includes between $40 million and $45 million generated by the Republican National Convention. In addition, in the text that supports the financial impact analysis that came up with that $245 million, CSL notes that, "it is estimated that approximately 25 to 30 percent of the direct spending … would take place locally regardless of the presence of the Arena and Team."

That's money that would be spent on restaurants, movie theaters or other entertainment venues instead of on basketball tickets and hot dogs if the city had no basketball team.

So, subtracting $40 million in RNC spending and reducing the direct spending figure by another $61 million (25% of the $245 million) that would mean that $144 million is a more accurate figure of the future financial impact of Quicken Loans Arena on the community. That 59% reduction [Editor's note: Pretty sure Jay means 41% reduction here], in turn, would reduce as well the $44 million in annual tax revenue the study said would be returned to the city and county annually, a key argument being used to generate support for the public outlay.
But yeah, let's trust the Cavs.