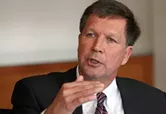 In an unsurprising move, Gov. John Kasich this week publicly denounced the otherwise much-ballyhooed GOP repeal of the Affordable Care Act, saying that such a measure would devastate hundreds of thousands of Ohioans.
Here's Kasich
:
"Let's just say they got rid of it, didn't replace it with anything. What happens to drug treatment? What happens to mental health counseling? What happens to these people who have very high cholesterol and are victims of heart attacks, what happens to them?"
Specifically, the governor says, he's concerned about Medicaid's expansion under the ACA, something that Kasich supported (and something for which Kasich broke GOP ranks). The expansion helped some 700,000 Ohioans — people who were "living in the shadows," as the governor has famously said.
It's unclear what sort of replacement plan is in the works, though federal legislators will have an opportunity in upcoming budget discussions to put something forward. Kasich, like other governors, has a chance to play a vocal role in that debate.