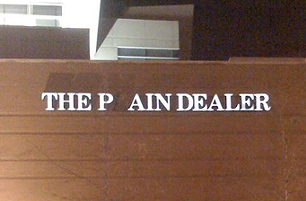 Sunday, the Cleveland Plain Dealer will mark its 175th Anniversary with a special "Milestones" edition. It will continue to celebrate its history throughout 2017.
At points this year
, the paper will devote ink to the city's "rich sports history, share stories of founding innovation and industry and take a look at the leaders who shaped this city."
Despite major changes in the newsroom in the past several years —
kicked off inauspiciously
with major layoffs, a reduction in home delivery days and a focus on the non-union digital operations — the
Plain Dealer
remains the brand to which the Northeast Ohio Media Group, Advance Ohio, Cleveland.com and all other mutations have been subservient.
Edited, these days, by George Rodrigue, the paper has produced important, impactful reporting in 2016 on critical issues in health, education, real estate, transportation and even local entertainment. (Sports, crime and politics are now the exclusive provinces of Cleveland.com.)
Cleveland.com is housed at the old
Plain Dealer
HQ on Superior and E. 18th, while the PD staff works in the Skylight Office Tower at Tower City. That physical division has exacerbated a certain media schizophrenia in town, one that employees at both publications, to say nothing of consumers, find occasionally frustrating and confusing.
But the value of the daily newspaper cannot be overstressed, and we look forward to celebrating the
Plain Dealer's
rich traditions, as well as its current staff of skilled and dogged reporters even as we poke, pry, disagree and continue to make non-stop sport of the guileless nincompoop Ted Diadiun.
If you have issues with the paper's coverage, as it's no secret we often do, the best thing you can do is subscribe: Engage with the reporters and editors directly — they turn out to be very responsive via email — and be sincere about how you think they can improve.
Happy 175th, PD.