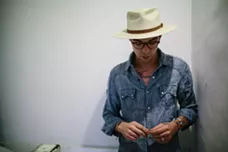 Most kids don't start listening to hard rock until their teenager years. Not singer-songwriter Justin Townes Earle. Not that you'd know it from listening to his alt-country music, but he developed an appreciation for the heavy stuff at an early age.
"When I was 7 and most people my age were listening to kids' music, I owned every AC/DC record on cassette tape," he says during a recent phone call.
Earle performs at Music Box Supper Club at 7 p.m. on Sunday.
Then, he discovered soul and R&B, and his musical interests broadened substantially.
"I remember being out with friends one day and we were standing in the parking lot of a gas station on 12th Avenue in Nashville," he says. "It's long gone now. This Cadillac pulled out. These two old black guys in white suits and white hats had Al Green's 'I'm So Tired of Being Alone' bumping on their system. I was 11, and I knew my taste would go in that direction. When I went home and told my mom I had an interest in Al Green, that blew her mind."
Ultimately, growing up in Nashville as the son of alt-country icon Steve Earle, who had Earle with his third wife, Carol-Ann Hunter, whom he would divorce, meant that Earle would absorb country and roots music too.
"There's two worlds in Nashville — there's the music world and there's a working class world that's filled with all kinds of bitter middle-aged women who are raising kids on their own because their crazy dreamer musician knocked them up and ran off," says Earle. "There's an aversion to being a musician. It was the last thing I was going to be. Musicians had screwed up everything around me, but in everybody's house, there was a guitar and some connection to country or the whole blues and jazz thing on the North side. You couldn't avoid music and it was from the beginning, a very big interest to me."
Those varied influences can be heard on his most recent albums, 2014's
Single Mothers
, and the companion disc, 2015's
Absent Fathers
.
Single Mothers
commences with "Worried About the Weather," a tender ballad punctuated by humming slide guitar. The album also touches on blues ("Single Mothers") and rockabilly ("My Baby Drives").
Absent Fathers
is just as eclectic.
A consummate songwriter, Earle writes with the same kind of finesse as his father. In fact, his dad gave him a key bit of advice when he started recording and touring.
"My dad looked at me one day and said, 'You don't get the chance to make bad records. You don't get the chance to stumble. You need to come out of the door swinging and keep swinging,'" he says. "He was being a bit dramatic there, but he knew people were going to be dissecting my songs. I wasn't going to get away with 'I love that catchy little melody.' Critics would pare everything down from the music to every little word. I knew that, but I like my father, I have that 'fuck you, I'll show you' mentality too."
Originally, Earle was going to scrap
Single Mothers
after a record label squabble left the album in limbo. He recorded the follow-up, the equally poignant
Absent Fathers
, and intended to put it out instead. But at the behest of his wife, he decided to release
Single Mothers,
and both albums came out a few months apart from one another to wide acclaim.
"They were both written separately to be records," he explains. "They've all been written to be like that. I don't have extra songs. Everything that I've written, pretty much everybody has. That's the way I operate.
Single Mothers
was slated to go to one record label. Some complications arose and some fuck yous went back and forth. I took it to another label. It took some time to get everything sorted out, so in the meantime I wrote
Absent Fathers
, also to be a record. The plan was that
Absent Fathers
was going to come out, and
Single Mothers
was going to be shelved. I was just sick of it by that point. My wife talked me into putting it out."
He says the albums' themes stem from the attempt to understand the complexity of a middle-aged man's relationship with his parents.
"I think it's more about figuring about how to
not
explore those themes," he says of the discs' concepts. "They're so central to everybody. You're going for the mother and father angle, and it's essential to who we are and what we've become. I dare anyone to say, 'I'm 35 and completely at peace with my parents.'"
The ever-prolific Earle has also just finished recording a new record that will come out in the new year.
"I haven't worked with producers very often at all," he says. "It was an interesting thing working with somebody from outside my group [on the forthcoming album]. That's the other thing. When you're from Nashville, why would you fly a producer into Nashville? That's like flying a hooker into Vegas. But for the next album, I went to Nebraska and spent two weeks with Mike Mogis [Bright Eyes, Rilo Kiley] to make this record. It was a great experience. I'm really excited about it. I'm back to my bluesier and countrier roots."
Justin Townes Earle, 7 p.m. Sunday, Jan. 15, Music Box Supper Club, 1148 Main St., 216-242-1250. Tickets: $25 ADV, $28 DOS, musicboxcle.com.