Frank Luther knew that he wanted to open a brewery in Cleveland, he just didn't know where exactly that brewery would be. That is until he and his partners landed on the two-story Bryant Building at 1261 Superior Avenue, originally built in 1921 as an automotive dealership and most recently home to the Cleveland Title Bureau.
"We looked a lot in California and other West Coast spots," says Luther,
Masthead Brewing
founder and CEO. "We were looking for the right property and Cleveland has an industrial background that gives you these kinds of buildings."
We're standing in the brewery portion of the building, which is outfitted with shimmering equipment from Craftwerk Brewing Systems in Michigan. In addition to the 20-barrel brewhouse there is a row of fermentation tanks and glycol-chilled bright tanks, which feed directly into the bar's tap system. All of the equipment is highly visible from all points in the cavernous space.
From left: Frank Luther, Mike Pelechaty, Matt Slife
Luther and his partners, Matt Slife and Mike Pelechaty, who serves as brewmaster, have been hard at work making Masthead a reality for about two years. The former engineers and finance guys admit that the size of the project has fluctuated over the past couple years, leaning smaller and even larger than it currently stands. But throughout it all, the taproom was always going to be the main focus.
"A taproom was always part of the plan," Luther adds. "It's a good marketing tool; it's how you build a brand, how you connect with your customers, and how you really get people in the spirit. You can put your beer on a store shelf, but it's just noise on a shelf if they don't have a taproom experience to relate back to."
While regional distribution in kegs and bottles will definitely be part of future plans, initially, Masthead is putting all of its eggs into three baskets: brewery, taproom and kitchen. All of those components fit neatly into a 16,000-square-foot space that feels large enough to host a three-ring circus. Drop ceilings were removed during construction to reveal 16-foot clearances throughout the space, which will accommodate 250 guests.
Visitors can congregate at beefy picnic tables, fabricated out of hemlock from an old barn in southern Ohio. Some tables weigh as much as 700 pounds. In addition to the low-slung tables and high-tops, there is a long and winding bar that extends a remarkable 108-linear feet. Details such as dedicated ordering points will obviate the need to compete for attention with those seated at the bar.
Pelechaty, who for three years worked at Black Box Brewing, has been brewing around the clock in preparation for the opening, which takes place next Tuesday.
"We're going to have six beers to start on tap and grow from there," reports the brewer, adding that most of the brewery's styles will be American and Belgian ales.
The starting lineup includes an IPA, blonde, witbier, and three stouts, including coffee and winter-spiced versions. Other stouts are slumbering in Woodford Reserve bourbon barrels for future consumption. The 24 tap handles ultimately will be gobbled up by additional Masthead brews, a few guest beers, draft cocktails like an Old Fashioned, cold coffee and Old City Sodas.
"Being able to utilize the relationships we all have is important to us, both at the bar and with the food," says GM Jeff Draeger. "Why not support the people who are doing good things in the city?"
Off to one side of the massive space is the open kitchen, the focal point of which is the red-tiled Marra Forni wood-and-gas fired Neapolitan pizza oven. Manning that sturdy and attractive piece of equipment is chef Nate Sieg, formerly of Butcher and the Brewer, Bar Cento and Lola. Sieg will preside over a casual taproom menu that features a dozen pies, broken into categories for red and white. Salads like chopped mixed greens or a roasted beet with candied pecans and blue cheese join starters like oven-roasted Brussles sprouts with pancetta; speck-wrapped, smoked mozzarella-stuffed cherry peppers; and goat cheese-stuffed dates drizzled with honey.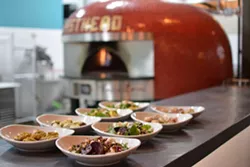 In place of full-service dining, guests will place their orders at the bar and get notified via pager when their order is up. Given the downtown location, lunch service is a given, with hours coming online a few weeks after opening.
The building commands a full 120 feet of frontage along Superior, all of which will accommodate outdoor seating come warm-weather season. When raised, six glass-paneled garage doors will fully open the entire façade to the patio and great outdoors.
There is a strong resolve to keep prices at or below market rates, says management, with pints of beer in the 5-dollar range, 32-ounce crowlers around $8, and growlers to go at $12 to $14. Handmade pizzas will cost $9 to $13.
"We're in the heart of downtown, but we won't be priced like a downtown place," notes Slife.
In the years that they've been planning this brewery, the partners have watched as other breweries have entered the local market. The continued rise in breweries and local craft beer does not at all concern them nor signal any approximation of a bubble.
"Yeah, there have been a lot of breweries that have opened up," says Luther. "It's kind of nice to see the swing towards what America used to look like pre-Prohibition, when there were a lot neighborhood breweries."
And, yes, this is a neighborhood, he adds, despite the high-rise buildings and preponderance of 9-to-5 citizens. They point to the continued rise in downtown population, more educated and adventurous beer consumers, and the general rise in beer appreciation and tourism as signs that there still is plenty of room for more great beer.
"I convinced Frank that Cleveland was the place to do this," explains Pelechaty. "I think it is the up-and-coming city of the Midwest. I think it's is going to be the next city of the Midwest that people talk about in terms of culture across the board – the food scene, the beer scene, sports."
Check the place out for yourselves starting Tuesday January 17th.